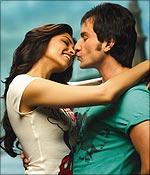 I'm down with a cold these days. You know, it's the time of year when the weather is fickle like a girl, unable to choose between wetness and glaring sun, the dreaded loo and a cool breeze. The weather is changing, the saying goes, and one must be careful. In much the similar way, in every rising director's career, there comes a season when the budgets change. When you go from making smallish and mid-sized films to making full blown mega-crore films set across a bunch of countries for purely ornamental reason, and this is a time one can easily lose one's head.
Imtiaz Ali, one of the most promising filmmakers in the country, is sadly down with blockbusteritis. I have been an ardent admirer of Ali's work from his very first film, the tragically underviewed and tremendously delightful Socha Na Tha -- a film with a more honest connect with youth and reality than even the epochal Dil Chahta Hai. It's a very fun film, refreshing in its abject unfilminess. His second, Jab We Met, was Bollywooded up to quite a degree -- choreographed songs et al -- but thanks to Imtiaz's charming dialogues and a leading lady throwing herself madly over the top, remained very enjoyable indeed.
It is only at this, film three, that the director appears to have hit a snag. Love Aaj Kal is watchable, but feels heavily compromised. It's a romantic drama that would have worked wonderfully if it hadn't tried to be funny in the first half, and doesn't work in the second because the laughs dry up. We have poignant moments interrupted by touches of lets-tickle-the-audience humour, as if India can't take a drama straight up.
And the songs, something Imtiaz earlier managed to weave in so seamlessly into his narratives, now abruptly interrupt the proceedings with much bling. Ali's dialogue is still his biggest strength, but here the conversation is so peppered with Hinglish in an obvious attempt to connect with the kids that it doesn't wash -- Saying 'aapka angle kya hai?' for 'what's your angle?' just doesn't work, sorry.
It feels as if Ali inexplicably decided,'chal', let's make a Kunal Kohli kinda movie.' It's always profoundly saddening when a film seems more like it's calculated to make the most money instead of just being the story the director wants to tell, and this film would have worked much, much better as a drama.
The film opens, rather originally, with a break-up. Saif Ali Khan and Deepika Padukone are parting ways with utmost cordiality, deciding indeed to have a break-up party to celebrate their rediscovered singledom. The girl leaves, the boy stays back and is then coerced by Rishi Kapoor, a genial London cafe owner, to say goodbye at the airport. Rishi drives Saif there and thrusts a bouquet into his hands, and Deepika's delighted as she leaves. Kapoor then, on Saif's insistence, starts telling him his own love story, and the film then narrates both romances side by side.
Ali uses a very interesting device by casting Saif himself in the Kapoor flashbacks: Kapoor tells Khan how the boy reminds him of his youth, and so the Sikh Saif isn't Kapoor as he used to look, but Kapoor as both he and Saif can visualise him as the tale is narrated. It's a clever move even though Saif struggles rather laughably with his Punjabi early on in the film, and it doesn't help how the narrative inevitably flips back and forth between that and the overslanged Lay's-salesman Saif of today. A good move overall, though.
The sepiatoned track is the far better one. There is genuine charm as we see a new girl (whose name, I'm flummoxed to know, the filmmakers are hiding) standing on her balcony, downing liquor tea in an attempt to drink what her man likes. She haltingly gulps with the unfamiliar liquid like it was poison, and it seems no coincidence that she's often glimpsed, like Juliet, on a balcony. Saif arrives, a proud Sardar standing next to an Uttam Kumar poster looking up at her emerging from those exquisitely Calcuttan green-shuttered windows, and as she walks to him her path is flanked by unpainted effigies. It's a fine, simple romance, told well and the new girl looks like a curious cross between a very young Preity Zinta and an edge-less Tabu, and works rather well except for the unfortunate fact that she looks half-amused in moments when she should look fraught with nerves. Still, an interesting find, this.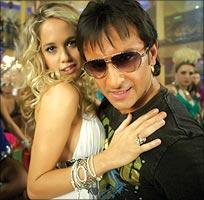 Having said that, the old-world love story doesn't tell us anything new. At all. Neither does the new one, descending, after the break-up opening gambit, into the plainest story of boy and girl meeting and drifting apart and meeting and drifting apart and... you get the idea. It's exasperatingly repetitive, and while some of the dialogue is still rather sharp, the film is let down by a leading lady who just cannot act.
I would here like to offer Farah Khan a special and awestruck citation for making us believe Deepika Padukone is an actress. She cannily used the undisputably attractive girl as a lovely mannequin in Om Shanti Om, and none of us realised just how plastic this Barbie really is. She has a great smile, dimples and all, but that's really it. I feel for Imtiaz to see his dialogue butchered by his heroine, heartbreak heightening when she murders a lovely 'break me' line. Both Imtiaz's earlier films featured heroines of tremendous talent, and one wishes this one also had an actual actress.
Saif does well but his character is wishy-washy, offensive in both the brash way he speaks to Rishi Kapoor as well as the callousness with which he takes his British girlfriend to India and packs her on a tourbus. Still, he does make the lines work. Rishi, on the other hand, is impossible not to like and even if he seems like he's repeating the same old good-natured romantic spiel film after film, at least he's doing it very well indeed. And it is Harleen Sr who truly takes the breath away. (See what I mean about the importance of a real actress?)
Love Aaj Kal is a harmless, watchable film -- sad, because it could have been truly special. It has its moments in the first half, while the second half is an over-melodramatic drag. Or have I missed the point, and is Imtiaz making an incisive comment on the nature of Bollywood masala, saying be it today or yesterday, our romances stay as cheesy as they are breezy?
Rediff Rating: