Kannada actress Ramya -- also known as Divya Spandana in the Tamil film industry -- is known to be quite frank and temperamental. On Sunday, she revealed her tough exterior to the media, when she lashed out at a senior journalist. 
Ramya, who arrived late at a press conference to promote her forthcoming film Jothegaara, got upset when the journalist demanded an apology from her. Later the film's producer and co-stars defended Ramya and said that she had informed the unit about her delay to the press meet.

Ramya explained to R G Vijayasarathy why she lost her cool at the press conference.  
Why did you get upset at the press meet, which was to promote your own film?

Honestly, I did not know I was attending a press meet. The film's producer Ashwini Ram Prasad told me there was a dinner meeting in which the media would join the unit members. I was called to the meet at 12:30 pm but I told them that I wouldn't be able to go before 2 pm. That was okay with Ram Prasad. He explained it to the media too.
But when I was asked to apologise for my delay, I was taken aback. Why should I apologise when I was not wrong? And the journalist concerned -- Ganesh Kasargod -- was raising his voice and asking me questions that provoked me. I had to raise my voice and say that I don't want to tender an apology for something I had not committed. I do not regret my behaviour at the press conference because I did nothing wrong. I only reacted to the unjustified outburst against me.
But what made you to lose your cool?

Let me explain the background. The film's hero Prem had an issue with the producer about his remuneration and other things. Prem had vowed not to be part of any of the film's promotions. Later, I mediated with Prem and Ram Prasad and told them to keep their differences aside to promote the film. Ram Prasad suggested that it would be a good idea if the whole unit meet for a dinner party. He also said it would be appropriate to invite the press as so much was written about the feud between Prem and him.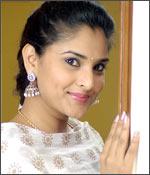 So I did not know that we are promoting the film at the press meet. When I arrived, Ram Prasad and Prem had already spoken about the film. When I started to speak, Ganesh Kasargod, who has known me for so many years, spoke rudely to me and demanded for an explanation for my delay. I was trying to explain but my attempts were silenced by his over-bearing attitude. 
There have been many instances when top stars and influential directors have come late to press meets but nothing has been said to them. I was targeted because I am a heroine and can be intimidated easily. But I have come from a different background and do not want to take threats lying down. 
I have great respect for the media. There are many people who have guided me in my career. I don't think I would have made it to the top without the support of the media.