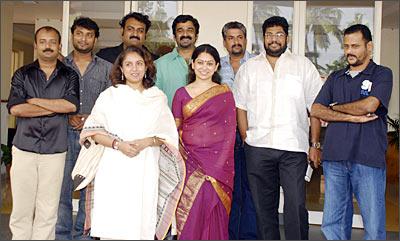 Ten directors to make a film!
Well, such an experiment is all set to happen in Malayalam cinema soon. In fact it is a combination of ten short films that will be based on a common theme. Produced by writer-director Ranjith, the theme for this project is 'journey'.
Ten films of 10 to 12 minute duration are being made by directors Lal Jose, Shyama Prasad, Shaji Kailas, Revathy, B Unnikrishnan, Anwar Rasheed, Uday Ananthan, M Padmakumar, Anjali Menon and debutant Shankar Ramakrishnan.
"My role will be as a producer here and we are planning to complete the film by August this year," says Ranjith.
The directors will have the freedom to choose the stories and the cast for their ventures.
Lal Jose says that his film is based on C V Sreeraman's novel Puram Kazhchakal and will have Mammootty in it. He is also planning to include T G Ravi in the film, "but I am yet to talk to him about the role."
Ranjith says that he has combined experienced directors with relatively newer directors. Uday Ananthan, who directed Pranayakalam, Anjali Menon, the director of Manjadikkuru and M Padmakumar, the director of films like Ammakkilikkoodu, Vargam and Vasthavam, feel it's a nice concept and they are getting ready with their own films.
Anwar Rasheed, who has directed three big commercial ventures -- Rajamanikyam, Chotta Mumbai and Annan Thampi -- has some stories in his mind but has not finalised his plans yet.
The directors agree that these kinds of experiments have happened before in foreign languages with films like Paris, Je T'aime and also, in Hindi with films like Dus Kahaniyam.
"Our aim is to make a film that will be an altogether different experience for the Malayali audience. Hardcore commercial directors like Shaji Kailas and Anwar Rasheed are rubbing shoulders with the likes of Shyama Prasad, Lal Jose and Revathy who have handled serious themes. That should certainly be an interesting prospect," says one of them.
The film has now been titled Kerala Cafe and the shooting is expected to start from early June onwards.
Text: Meghna George