Soap queen Ekta Kapoor has excelled in whatever she has taken up. Her show on Colors -- Koi Aane Ko Hai -- has become one of the most talked about shows. Unlike her earlier telly soaps, some of which have run for almost a decade, Koi... is a mini-series of around 20-26 episodes.
Rajul Hegde spoke to the Balaji chief for more on the horror show.
New and young actors seem to be hitting it off with the viewers. Do you see a trend?
I think it has always been the trend. Some of the biggest shows have had new faces. The reason why these newcomers do well is because they come without any baggage. Television is about identifying with the characters.
What has been the response for Koi Aane Ko Hai?
It has done well even during the IPL season, and after it.
 
What do you think is the attraction of this genre of shows?
 
I don't know. But I am so much into it and I love it. It's also because I'm always thinking about the unknown. Like, things that have happened that makes you think and how they affect others. These are the karmic equations on which I would love to work on.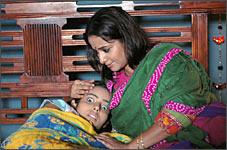 Did you enjoy the show?
I love Koi Aane Ko Hai. It is my favourite show because I believe in this genre. I believe in life after death. I believe in people, who have had terrible experiences because of incomplete auras. This genre is a medium where I get a chance to probably delve into those questions that each one of us have.
Which story has given you goose bumps?
The new series that is currently on air, Gulmohar. I am happy with the kind of response we have gotten so far.
Is it easier to make these kinds of shows where it solely depends on the people to believe in them or not?
To be frank, that's the fun part of it. Such things have happened to some people and one keeps hearing such stories. My show deals with such real stories. It is the reality of the story and not superficial aspects or special effects that will scare the audience.
 
How do you handle so many shows on different channels and movies too?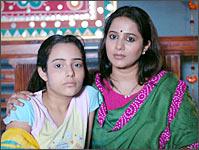 I don't know. I have different and fabulous teams for different shows and movies. Basically, I just do what I like to do. I leave the rest to others.
 
Are you planning to act in the future?
[Smiles] No one has approached me. But I wish somebody approaches so that I'll make more money.
 
Which show, besides your own, do you like?
Brothers And Sisters. I am obsessive about it.
What do you think about Balika Vadhu?
Balika is not my type of show, so I don't watch it.