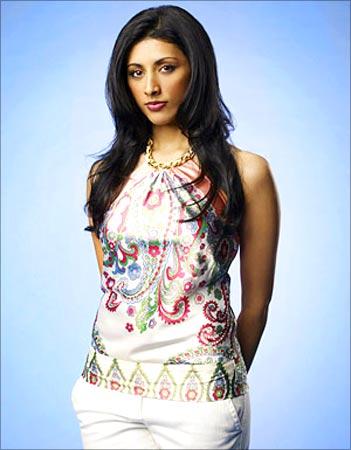 Her last name may be Shetty but that's all Reshma has in common with Bollywood's sexy sisters Shilpa and Shamita Shetty.
The 31-year-old actress, born and raised in England and the United States, stars in Royal Pains, a television series in the US about a young ER doctor played by Mark Feuerstein who becomes a 'doctor for hire' to the rich and famous.
Reshma plays Divya Katdare [Katdare also happens to be her boyfriend's last name], his over ambitious assistant. And no, she can't speak Hindi.
Born in family of doctors, Reshma initially studied to be a doctor herself but switched majors in college when she discovered she could sing. After graduating from the Cincinnati Conservatory of Music in 2005, she landed the female lead in a touring company of the musical Bombay Dreams as well as Rafta Rafta.
But she is yet to use her vocal talents in Royal Pains though she should make her parents happy since she does get to play doctor.
'Everybody in my family are doctors. There was not a woman doctor yet, and I had the grades and all that kind of stuff, but yeah, it's very funny. Other stuff happened, and here we are. Here we are playing kind of a doctor,' she said in an interview to Daemon's TV.
Reshma also shares amazing chemistry with Mark Feuerstein. 'We get along obviously as people, so it's very easy to work with someone who you already feel that you have chemistry with. So that's easy. The characters are very feisty together as you'll see. She's a straight talker. She's the one,' she said.