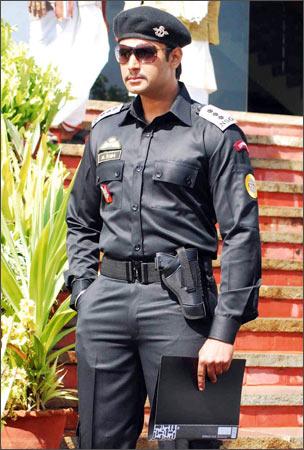 'Challenging star' Darshan's new Kannada film Yodha directed by Om Prakash Rao (a remake of the Tamil film Bose that featured Srikanth and Sneha in lead roles) hits the screen this Friday amidst huge expectations.
Darshan's Yodha and Raaj, the Showman starring Puneet Raj Kumar (releasing on July 31) are the two films that the industry feels can put the depleted Kannada film industry back on track.
Nikitha is paired with Darshan in Yodha, an action film with patriotic overtones. Darshan says that the film has its quota of commercial ingredients and is sure that his fans will enjoy the powerful dialogues and the fight sequences.
"I am playing a commando who belongs to a patriotic family. I have not done a role like this before, so I am waiting to see how people react to the film. I wear the military uniform most of the time in the film. I am working with director Om Prakash Rao after a long time and our combination has always proved successful in films like Kalasipalya, Ayya and Mandya," Darshan says.
Nikitha says that Darshan is known for his simplicity and straightforwardness. "I never had a dull moment while working in this film. Om Prakash Rao is one of the most brilliant directors in the industry. I have a great role in Yodha. Of all the songs, I am particularly happy with the patriotic solo song."
Text: RG Vijayasarathy