A couple of days back, as I was surfing through music channels, I came across a song being played simultaneously on three networks. I settled for one channel. On screen were three characters, who seemed to have just been set free from Guantanamo Bay in Cuba. The film is titled New York.
Set in the backdrop of terrorism, New York -- starring John Abraham, Katrina Kaif and Neil Nitin Mukesh and directed by Kabir Khan -- has been making headlines; more so for John's bare-it-all act than its music.
For all those who are being fed an overdose of the Hai Junoon remix, which every other channel claims to have exclusive access to (including my local cablewallah), there's nothing much to drive home about the film's music. Pritam and Pankaj Awasthi's music is a big letdown.
Having been bombarded with composer Julius Packiam's version of Hai Junoon, it may take some listening to settle down with the original version sung by KK. Don't worry, you will eventually get used to lyricist Sandeep Shrivastava's ode to friendship and life and forget it with panache.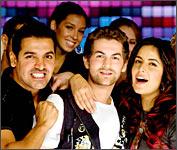 Hai Junoon seems to be New York's only saving grace besides Sandeep's lyrics. It is youthful, refreshing and strikes the right chords. I don't think Yash Raj expected the other numbers to click with the audience.
Mohit Chauhan's rendition of Tune Jo Na Kaha is nowhere near his best. He sounded much better in Hafiz Khuda (the song in the forgettable Akshay Kumar-starrer 8x10 Tasveer).
The remaining tracks -- Aye Saaye Mere, sung by Pankaj Awasthi (he lent his voice to the earlier John-starrer, Karam), Sunidhi Chauhan's Mere Sang (and its remixed avatar) and the two theme songs -- promise to vanish from the listeners' mind even before they appear once again on a music network.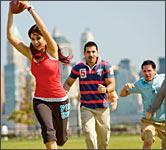 Whoever told Yash Raj that strumming guitars and techno masala are a sure-shot way to portray the West in the listeners' mind, needs to do a re-think.
In a nutshell, New York's music falls flat. If you want to listen to some good music, dig into your old collection instead.
PS: Don't fall for Yash Raj's carrot called a free DVD of their songs. But then again, that may have better shelf-life than New York's soundtracks.
Rediff Rating: