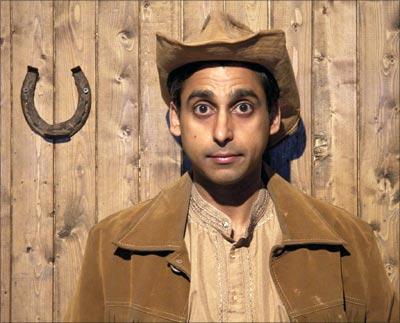 Stage actor and producer Anand Rajaram has created a show that draws upon mothers' wisdom to tell the immigrant story. He has collaborated with stage actor and director Ravi Jain and the two get their mothers on stage, starring in the show.
Rajaram explains the quirky show, which will be part of the South Asian performance festival called Dishoom: "My mother and Ravi's mother will soon be giving cooking demonstrations -- my mother of South Indian food and Ravi's of North Indian food. I wanted to have my mother teach audiences how to cook South Indian food. Ravi Jain had a show that he created with his parents on arranged marriage.  I created a mix of the two."
As the mothers teach the audience cooking, he continues, "we will have conversations with our mothers about coming to Canada as immigrants, the Canadian experience. So, we will be combining food, culture and their life story."
None of the women are trained actors. How would they react to 'performing' before an audience?
"Our job is to ensure they feel supported and they look as good as they can look," Rajaram says. "It will be interesting because Dishoom is not only about cooking but also about dynamics, parents and children, also about generational difference between Ravi and I and our parents. It won't be a scripted show, rather it will be an improvised show -- just conversations. The idea is to have a creative structure and improvise within the structure."

Dishoom, he says, showcases the work of some of Toronto's most exciting South Asian Artists -- like Anita Majumdar, comic Ali Rizvi and musician Ravi Naimpally.
Rajaram set out to study psychology at University of Waterloo but found no interest in pursuing it. "It is all an analysis of human beings from the outside and so I changed to theaters and so my undergraduate degree is in drama," says the man who is making quite a splash -- in theatre, on television and films.
He said he enjoyed acting in Mira Nair's film My Own Country, which she shot in Toronto. At present he has four films he is working in: One is a spoof called Suck, Vampire, and the others are The Good Friday, Silent But Deadly, and You Are Here, which he hopes will be premiered at the Toronto International Film Festival in August. 
Rajram says theatre "would probably be my first love as theatre is such a great and direct connection with the audience."
He started performing after graduation, when he got a part-time job as an actor at  the Shakespearean Canadian stage at Toronto's High Park, a sprawling garden with acres of greenery.
"It is an open air stage, very impressive and really for families, quite spectacular because of the scenery," Rajaram explains. "Shakespearean at the High Park is unique. You are watching Shakespeare and we are on stage in an isolated wooded area with planes flying overhead and birds flying by."
But that was a long time ago. This summer, he will reprise his role in Rice Boy at the Stratford festival (mid-June till October).
Rajaram runs his company called Photophone, which has produced a solo show called Cowboys and Indians.  
Does he feel he has got his due? "I don't speak in those terms," Rajaram responds. "I have not gone into this [acting and producing] looking for fame or money. It is for the love of the art. As long as I keep creating, keep doing new and interesting work, I am very happy. I think a reasonable level of recognition has come over the years."
Text: Ajit Jain