We all know Javed Jaffrey is funny. This Friday, he hopes to tickle our funny bone even more with Paying Guest, co-starring a host of stars like Shreyas Talpade, Celina Jaitley, Aashish Chowdhary, Vatsal Seth, Riya Sen, Neha Dhupia, Sayali Bhagat, Johny Lever, Paintal and Delnaz Paul.
Jaffrey will dress in drag for the film, directed by Paritosh Painter. He tells Patcy N what to expect.
Tell us about your character in the film.
I play a struggling writer, working for a television channel. Though his dialogues are used, he doesn't get the credit for them. Paintal plays the owner of the channel, and his boss. I'm in love with his daughter, played by Sayali. Paintal objects to our relationship.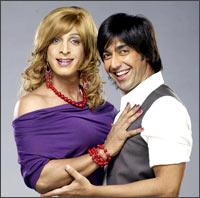 Paying Guest is a story about four boys, who are looking for paying guest accommodation. They get the rooms under one condition -- they have to be married couples. So two boys dress up like women while the other two pose as their 'husbands'.
How different is the comedy here from your previous comedies?
I have worked in Dhamaal which was a big hit. That movie was written by Paritosh Painter. This movie is also written by him, and directed too. That's why I took it up.
I don't know how one can differentiate between comedies. A burger is a burger and though it may taste differently in different food joints, the fact remains that it is still a burger. It's the same with comedies. We have different kinds of comedies like situational, satire, slapstick and political. This film is a situational comedy.
You play a woman in this film. How was the whole experience?
I have played a woman before in Tehelka and Mr Shrimati. Naseeruddin Shah, Aditya Pancholi and I wore swimsuits in Tehelka. In Mr Shrimati, I had a long role as a woman. A cabaret number was also picturised on me. I really worked hard in that film and feel that to date, no man has matched my level when playing a woman.
It has been a long time since I played a woman and though my face looks different after so many years, there haven't been that many physical changes. But it was difficult to play a woman after such a long time. Plus, I play a western woman.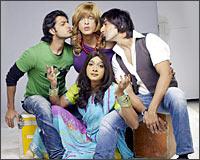 How difficult was it?
There is a very thin line when a man plays woman. If you're not careful, you may end up looking like a eunuch. If you don't enact your role properly, you can look very bad. I gave my best.
You are doing different kinds of roles these days.
Whenever I get an opportunity do something different, I take it up, whether it is Salaam Namastey, Ta Ra Rum Pum, Victoria 203, Dhamaal, Shaurya or Tasveer 8X10. I would say I was lucky that I got different kinds of roles. I have a very normal role in this film but because of the woman element, it was a bit difficult.
Subhash Ghai gave you a break in Meri Jung. Now you're working with him again...
It has been nearly 25 years since we worked together. I have a three-film contract with Mukta Arts now. After Paying Guest, I have Hello Darling and one more film to go on floors.
How do you rate Paritosh as a director?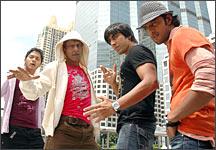 We shared a good comfort level during Dhamaal. When I came to know that he was directing a film, I was thrilled. He is such a good writer that I was confident that he would make a good director too. Plus, he comes from a theatre background.
The film has a huge star cast. It must have been fun on the sets...
Yes. All the boys were very cool and naughty. The girls were very good too. I have a few scenes with Johnybhai (Lever). I just love him.
Are you doing Iranian director Majid Majidi's film?
I don't want to talk about it right now but we did talk about working together. I think something is happening but it is too early to talk about it.