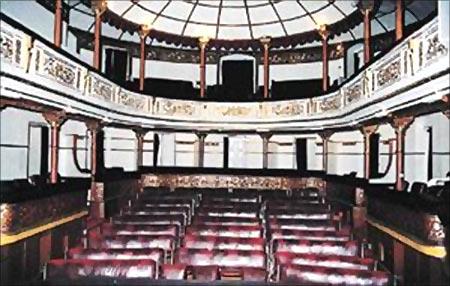 The British era Gaiety theatre -- the only theatre in Victorian Gothic style in Asia -- was formally dedicated to the people by Chief Minister Prem Kumar Dhumal after its renovation in Shimla today.
Considered a photocopy of London's famous Royal Albert Hall, the 122-year-old theatre was thrown open to the public after completion of its restoration work which took over five years.
Gaiety theatre, which was orginally built in 1887, had been closed for restoration work since 2004. The theatre designed by architect Henary Irwin, who had also drawn the design of Viceregal Lodge where Indian Institute of Advanced study is housed now, remained a hub of cultural activities during the British Raj and thereafter.
Prominent actors and musicians including K L Saigal, Prithvi Raj Kapoor, Madan Puri, Shashi Kapoor, Jennifer Kendall, Raj Babbar, Naseeruddin Shah, Anupam Kher and Manohar Singh have given their performances at the theatre.
Addressing the inaugural function, Chief Minister Prem Kumar Dhumal said the theatre built in Gothic style is only the second of its kind in the world. The theatre is another contribution of Shimla, the summer capital of British India, to the country and the world, he said.