If you missed The Wrestler in theatres, where it did decent business for a film that did not cost a fortune, catching it on DVD means an evening of watching sterling performances by a cast led by Mickey Rourke. It would also mean cheering a 'small' film with a big heart.
And those who watched the film in theatres, some hoping Rourke will grab the best actor Oscar, can enjoy it even more now -- taking scene by scene of this slow-moving but always engaging film. It has quite a bit of violence, sexuality/nudity, strong language, and scenes of drug use. Parental guidance is strongly recommended.  
Fox Home Entertainment has had a strong month, with the DVD sales and rentals of its Oscar winner Slumdog Millionaire, and the family entertainment hit Marley and Me. Though the DVD market is crowded with the recent release of the big budget film The Curious Case of Benjamin Button, films such as The Wrestler, have their own appeal. I would urge serious movie lovers to buy the DVD of this film directed by Darren Aronofsky. It has a timeless appeal, and the more you see, the more you may wonder why Rourke was robbed of an Oscar. Winner Sean Penn was mesmerising in Milk but Rourke is simply great.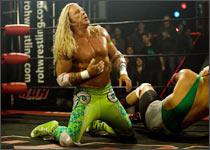 The Blu-Ray edition of The Wrestler, and Marley & Me are also selling fast. The Wrestler extras include revealing and often surprising interviews with wrestlers and film-makers. The music video, written and performed by Bruce Springsteen, is also an added attraction.
Marley & Me, featuring Owen Wilson and Jennifer Aniston, comes in a '3-Disc Bad Dog' edition. The story of a young couple contemplating the decision to have a baby and how their life is challenged by an adorable but totally undisciplined Labrador pup, the DVD has special treat to dog lovers. In addition to 19 deleted scenes from the film, Disc One has delightful scenes with pups on the movie's set. There is also a dog training trivia. While Disc Two offers the film, the last disc has the digital copy of the comedy adventure to be used in portable media.
Rourke, one of the much praised actors of the 1980 and 1990s for his work in such films as Diner, The Pope of Greenwich Village, and 9 ½ Weeks, fell on bad days due to personal problems but if The Wrestler is any indication, he could emerge as one of America's best character actors. 
As his character describes it, he is a 'a broken down piece of meat of a man,' in this deeply affecting film. He is Randy 'The Ram' Robinson, a former superstar who is paying the price for his follies two decades ago. But wants to risk everything now to prove that he can still excel and win.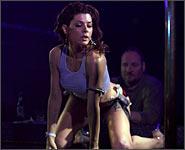 His decisions and his plans involve two people: his estranged daughter (Evan Rachel Wood who is terrific) who finds it difficult to patch up with him and a strip club-dancer (a luminous Marisa Tomei) who is afraid to start a relationship with him..
Rourke's efforts to reclaim his career through this film will be remembered for a long time. Apart from disciplining himself and doing six months of bodybuilding, and putting on 35 pounds of muscle, he also cooperated with his director to the hilt.
He looked so realistic that everyone on the set was amazed, Aronofsky, who made a big impact a few years ago with Requiem for a Dream, says, 'When we finished the film, some wrestlers came up and said, 'There's not a wrestler in the world that won't believe you're not a wrestler." 
'And he did some great moves, and if you look at it, it's all him. Mickey did it all,' the director recalled in a recent interview.