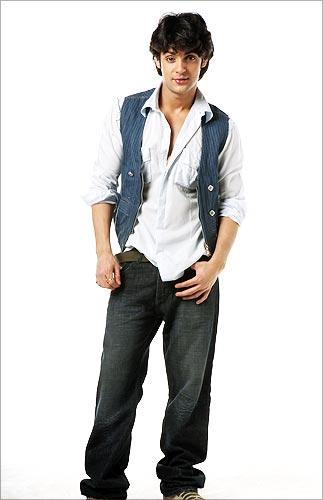 Karan Wahi of Remix fame returns to television soaps with Mere Ghar Aayi Ek Nanhi Pari on Colors. The 23-year-old actor plays Rajveer in the show. Rajul Hegde finds out more.
Can you talk about your character?
I play Rajveer, Chandni's love interest. Rajveer is a charmer, who's like a magnet to girls. He is very close to his grandmother, whom he lovingly calls GM. Rajveer has no ambition and believes in living life to the fullest. One day in order to fulfil his grandmother's desire, he goes to Amritsar with his friends to pray for a suitable wife for himself.
I am like Rajveer -- happy-go-lucky, a spendthrift and someone who loves to chill out with friends.
You were not seen much on television after your hit show Remix. What did you do in the interim?
I did a couple of films after Remix. They are still in the production stages. I was told not to take on shows because it would interfere with the projects. After that, reality shows kept me busy. I also did Saas vs Bahu, Mr And Ms Television, and performed and hosted at a few award functions. I got a few offers for soaps but they weren't exciting enough. And I didn't want to do the same old stuff.
What went wrong with the films?
I don't know. My films didn't take off, so I started looking for something else.
So what prompted you to take up this show after four years?
The theme is quite contemporary. It's about a girl child. Rajveer is also different from the character I played in Remix. I loved the concept and my character.
You were just 18 years when you did Remix. Viewers can still remember you as young Ranveer. Do you think you can change your Remix image with this new show?
I have been away from television for quite some time. It will take viewers some time to accept me in this new role. But I hope that they love me in this show.
Catch Mere Ghar Aayi Ek Nanhi Pari at 9:30 pm from Monday to Friday, on Colors.