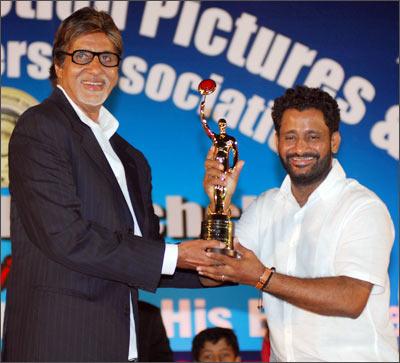 Crediting megastar Amitabh Bachchan of being a "guiding light" of sound recordists in Hindi cinema, Oscar-winning sound engineer Resul Pookutty has said that he owes his international recognition to the Big B.
Bachchan has always been involved in and supervised the post-production stage of his films.
"He would witness how the film is shaping up. He has gifted a library of sound effects from Hollywood to sound recordists in Mumbai to learn the new technology. His company also readily agreed to produce my album of sound effects," Pookutty said after his felicitation by Bachchan on Tuesday night.
The function was organised by the Western India Motion Pictures and TV Sound Engineers Association.
He said February 22, the day when Slumdog Millionaire swept the Oscar awards, was a proud moment and a landmark day for all the technicians working behind the scenes.
"We made a point that our contribution is very important towards making of a film and that was recognised by an international body like the Oscars," he said. 
Bachchan, speaking earlier, said he shared a close relationship with the sound department all through his career. "Even though Saat Hindustani is my first film as an actor, technically speaking my debut film is Bhuvan Shom, as my voice is documented in it," he said.
Text: PTI