When Deepak Dobriyal was younger he was labelled as being nalayak (good-for-nothing). People would point fingers at him and tell their children to not be like him, while teachers were concerned about his future.
"Even my parents wondered if I would ever succeed," he says with a laugh, while talking about his middle-class upbringing in Delhi, where he completed his education. "I was active in the theatre scene. I found myself spending sleepless nights just thinking of characters, my roles and the stage," he says.
 
Armed with nothing but passion, Dobriyal came to Mumbai with stars in his eyes. And he learnt his biggest lesson: "Yahan paisa aapko todta hai [In Mumbai, money breaks you]," he says, reminiscing about the days when he used to wait for producers to call him for auditions.
"A bunch of us came together to get a foothold here, and between the six of us we had just one phone," he says, remembering how they huddled together, crossing their fingers each time a producer called. And while he gave up initially, returning to Delhi after just a three-month stint in Mumbai, Dobriyal finally signed films like 1971, Anurag Kashyap's Gulal, Vishal Bharadwaj's Omkara, Rakeysh Omprakash Mehra's Delhi 6 and Kundan Shah's Hero, one of the 10 short features in Mumbai Cutting.
"It feels good to be in the position that I am in today," says Dobriyal. He's already wrapped up two other films that should -- if the current multiplex-producer standoff ends -- release in June 2009.
 
He's still not easily recognised, but Dobriyal, like most of the other "heroes" about whom you'll read in this article, hasn't been the lead actor in any film so far and hasn't been declared a "character actor" either. But he's securing a position for himself in the industry where, in his own words, he once struggled to get noticed. "Sometimes I threw attitude when I found a role slipping away from my hands," he confesses.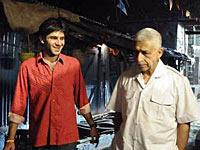 Showing too much attitude, laughs Arjun Mathur, "is something you might find every struggling actor doing. When things are not going according to plan, you show off, it's natural."
Sid Makkar, Mathur's co-star in Luck By Chance, chips in: "I left my computer studies and returned to India from the US to become an actor. I thought Kis Kisski Kismet, my first film with Mallika Sherawat was a piece of art so yes, in that sense, I thought I was such a stud."
While Makkar's first flop showed him the route to television and theatre before he began signing films again, Mathur, a Delhi-bred, 27-year-old actor, wowed critics with his powerful performances in films like Barah Aana and Zoya Akhtar's recent hit Luck By Chance. Still trying to find a foothold in the industry, Mathur has had some impressive innings already, even as he's shared screen space with seasoned actors like Naseeruddin Shah, Shabana Azmi and Boman Irani.
"It's tough at times but because I love my work it keeps me going," he says candidly.
Any lessons learnt?
"Plenty," he laughs sarcastically while quickly promising, "I'll never become arrogant despite success, I'll stay rooted and I won't make people wait for me."
Mathur's obviously speaking from experience and because of what's happened with him over time as an actor. "I don't want to stand on the sidelines, I have faith in myself, but when you find roles being written to launch a star son, it's frustrating," he says. His role as a struggling actor in Luck by Chance is close to his heart. Interestingly, much like the protagonist in the film who joins an acting course, Mathur too went through Kishore Namit Kapoor's acting course.
"Of course, I realised later that, beyond a point, acting cannot be taught," he adds. And while he's waiting to become a bankable name, Mathur says he's happy with roles that, despite being small, have left a lasting impression on audiences and critics.
 
Mathur, having assisted directors on films like Bunty Aur Babli, Rang De Basanti, Kyun Ho Gaya Na, and worked in short films by Farhan Akhtar and Mira Nair, is comfortable with the "mechanisms and techniques of filmmaking".
 
It's the sort of route that Raj Singh took for himself, too. Armed with an engineering degree, he was duped by his friends when they decided to start a software firm. Unlike others who in their childhood start to dream of becoming actors, Singh says he had absolutely no inkling that he would come to Mumbai one day. A chance audition brought him to the city.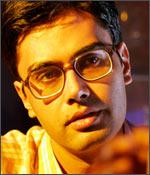 "The film for which I'd auditioned never got made and I was too scared to fail all over again," he says. "As a rule, for two years one remains lost in Mumbai," grins Singh, adding how he wrote the story of Gulal out of frustration and with absolutely no work in hand.
"It was difficult to meet anyone in the industry but I managed to meet Anurag Kashyap at a party and narrated the story of Gulal. He liked it and I was the lead in it," says Singh, adding that when the movie was stalled midway, it frustrated him. "I stopped having a social life, stopped attending family functions, because I wasn't doing anything," he says.
"The carrot of Gulal dangled in frontof me, and I suppose that's what kept me going," says Singh, who had a role in Black Friday and also wrote the story of No Smoking. That's like Vansh Bharadwaj, who, after director Deepa Mehta watched his play in Delhi, came backstage and promised to work with him.
"I waited for Deepa's call and two years later, true to her word, she called and gave me Videsh," says Bharadwaj who remembers "practicing how to give autographs as a kid". He's just completed another film with Mehta (in which he's acted alongside Seema Biswas, Lisa Ray and Shriya Saran) and is in the process of finalising some other films, too.
 
As actors, Dobriyal, Singh, Makkar and Mathur are still waiting for that one critical break that will put them on an even more comfortable pedestal. "You sit at home because there's no work and also wonder for how long your mother won't talk to you because of your decision to be an actor," says Makkar, while Bharadwaj sometimes confesses to going through an "emotional churning where I miss my parents back home".
Dobriyal, on his part, finds it endearing that people back home feel proud of his achievements. "We might be waiting in the wings but it's nice to know that some of us are doing what we always wanted to do," says Mathur.
 
He's right. Maybe that's why, despite their hardships, they still find a reason to smile.
Powered by