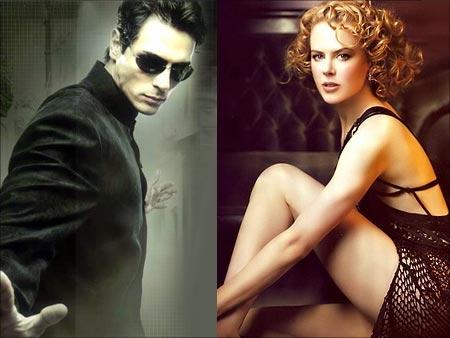 Take a world-renowned director, a popular child actor, an Academy Award winning actress, a studly Bollywood hero and one of the world's most luxurious hotels. Now, mix them all together.
What do you get?
One bad, confused advertisement.
Yes, Shekhar Kapur -- of Elizabeth fame -- has directed a commercial for Schweppes, a seemingly innocuous beverage brand.
And yet Kapur has turned the brand into something else: A daring rendezvous between lovers, an Orientalist's fantasy, a mishmash of popular culture.
The advertisement features Moulin Rouge star Nicole Kidman as our fair lady (in this case, extremely fair lady), while the dapper, swarthy Arjun Rampal serves as hero.
The crux of the story is that our lady in white, Nicole Kidman, is travelling by night to Udaipur's magical Lake Palace, where she is to meet her secret lover, Mr Rampal, who seems to be some kind of Rajput royalty.
But, as she approaches Rampal while unzipping her dress, Kidman suddenly dashes past her hunk and instead locks herself in a bedroom, where she takes to guzzling a bottle of Schweppes. After a satisfied sigh, she says ironically, "Hey, what did you expect?"
And as if things weren't superfluous enough, Slumdog Millionaire actor Rubina Ali -- known as Latika in the film, also known as the little girl whose father allegedly tried to sell her -- makes an appearance. It's not clear what exactly she does or who she is. From what it looks like, she's Kidman's child servant.
Weird stuff. It will be interesting to see how the ad is received, both overseas and here in India.