For all those of you on the lookout for their ideal life partner, Star Plus' Star Vivaah may just be the answer.
The show provides a platform for prospective brides and grooms to find their life partners, thus simplifying the process of the most important decision of one's life -- marriage. All participants on Star Vivaah will be dissuaded from making dowry demands. The show will also feature socially ostracised people such as widows, handicapped individuals and divorcees.

Adding an entertainment tadka to the show will be the inclusion of celebrity jodis each week along with an expert from diverse fields to share important tips and trivia.
And the two people guiding you through all this are hosts Mohnish Behl and Aditi Shirwaikar.
Behl will don the hat of an elder brother/father with the participants and bring out the key issues most of the families would like to know but find embarrassing to ask.
Rajul Hegde caught up with the actor to know more.
You are back to hosting a show after so many years. How is this show different from the others?
My first show was a TRP-based game show about human drama. But Star Vivaah is very close to my heart because I feel strongly on two issues -- the girl child and dowry. This is a show with a social cause. Since marriage is a big thing, we are going to talk about different aspects of marriage in every episode like rituals and even how to make the menu economical.
Do you think your attachment to Rajshri films has worked for you in anchoring this show? Behl has been a part of most Rajshri Productions like Maine Pyar Kiya, Hum Aapke Hai Koun...! and Hum Saath Saath Hain.
Yes, to some extent. But a major part is because of my mom's (legendary actress Nutan) credibility.
What prompted you to take up this show?
Firstly, because of the tremendous social platform. Secondly, my exposure -- on a personal level -- with different people will help me grow as a human being. Lastly, Star Plus is an authentic channel. I had jokingly said that the channel was all about saas bahus fighting. Now at least people can get married and paapon ka prayaschit karo (repent their sins). [Smiles]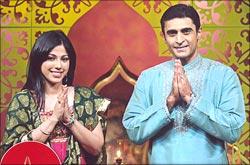 You have two daughters. Do you believe in arranged marriages?
Personally, I have not gone through the whole process. I don't have anything against arranged marriages but there should be transparency.
I have only one expectation from my daughters and that is to be good human beings. They should have the capacity to take care of themselves and be independent.
How are you as a father?
My eldest daughter is 16 years old, and the second is only four months old. I am a strict and disciplined father. I have been brought up the same way. I don't want my daughter to try to wriggle out of situations. Even if she is going out with friends, I want all the information. I always tell her to be open and honest.
My first daughter was born after my mother's death and the second after my father passed away. This is a very strange coincidence. Maybe this family is supposed to have only four members.
Since you will question the suitors, viewers will put a lot of trust in you. Does that make you nervous?
I have to strike a balance in passing judgement.
How do you differentiate acting from hosting?
There is a vast difference. With a script you are projecting the interpretation of the character whereas as a host, you are playing a certain role for a format.
Television is predominantly about women. Where does it leave actors like you?
It results in actors like me getting less work. When I am involved in a project, I am not the focal point but one of the characters. I'm okay with that. I don't want to work in a project for 22 days in a month. I want to shoot for different scripts and meet different people. That's how I have been working for the last 28 years. I would go crazy if I worked with same group of people for years. I am glad that I have got an opportunity to do different roles and work with different people and not get struck with one image for 10 years.
You're doing Ram Gopal Varma's Rann. Can you talk about your character?
Amitji [Amitabh Bachchan] is personification of what the television media should be like -- in terms of pure, honest news reporting, and upholding social and moral fabric. My character is just the opposite of that -- it's what the television media can become. It is a clash between these two. It is shown in clear black and white and in a dramatic manner.
What next?
I am doing Ken Gosh's Yahoo with Shahid Kapur, and Sameer Karnik's Roshan.
Catch Star Vivaah every Monday to Friday at 2 pm only on Star Plus.