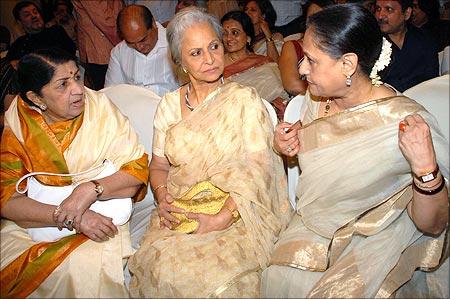 A book chronicling the life and times of legendary singer Lata Mangeshkar in the form of conversations with her was released on May 15. Mangeshkar, who has enthralled music lovers across the country over decades, was present at the unveiling of the book Lata Mangeshkar In Her Own Voice written by writer Nasreen Munni Kabir at a function in Mumbai.
The book, which has been written in English and describes events from her life from childhood till date, is in the form of a series of interviews with the singer on various topics.
"We (Kabir and I) know each other for many years. I personally don't like writing books. Jaya (Bachchan) asked me once but I ignored it," Mangeshkar said.
Experiences of film personalities like Javed Akhtar, Waheeda Rehman, Dilip Kumar and family members with the legendary singer have also been mentioned in the book.
"It was challenging as I had to do a lot of research and it was important not to ask only simple but also some tricky questions which made her think for some time. It was easy to convince her for this as I met her in the 1990s and she has also seen my earlier work," Kabir said.
Text: PTI
In the picture: Lata Mangeshkar, Waheeda Rahman and Jaya Bachchan. Photograph: Pradeep Bandekar