This book of conversations is the closest you'll come to probably knowing Lata Mangeshkar. Given a choice, would you rather hear Lata Mangeshkar sing, or talk?
While that's hardly a debatable question -- especially given that Mangeshkar's voice, like Sachin Tendulkar's, is thin, therefore less melodious, or even resonant, when she's talking -- London-based documentary filmmaker Nasreen Munni Kabir, who did just that in a six-part documentary series for Channel 4, now several years later, with additional interviews, has converted it into a book in which you can read the singer as she talks about her life and songs in her own voice.
It's the closest you'll get to her autobiography, minus any personal controversies -- in Mangeshkar's case, her relationship with Raj Singh Dungarpur -- but plenty of professional ones, which she snuffs out with all the dignity, and simplicity, that comes with being India's singing diva for over six decades.
Born in a large house in Sangli, where her father ran a theatre company, and where she began to learn music, with her father's grudging approval, and with whom she sang as a child, Mangeshkar confesses to "making excuses" to get away from her daily tutoring.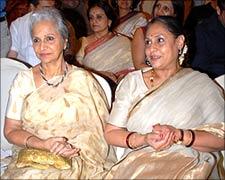 "I was very young and preferred playing," she recounts, "I pretended to have a headache or stomach ache," till her father told her, "Always remember -- whether a guru or father is teaching you -- when you sing you must think to yourself you will sing better than him. Never think how can I sing in his presence? Remember this. You must excel your guru."
It was a lesson that has stayed with her all her life. "I have never forgotten Baba's words," she tells Kabir. Lata Mangeshkar...in her own voice is fascinating because the bulk of the book is in the form of an interview, conducted not over days or weeks but over years.
"Film music wasn't hugely appreciated at home," remembers Mangeshkar, "And my father was a conservative man. He was strict about the way we dressed, we could never wear powder or make-up. We couldn't go out freely. Baba didn't like us going out late at night to watch plays, not even his own productions."
It was ironic, therefore, that as the eldest, soon after the family fortunes turned penurious, the Sangli mansion was auctioned, and her father died, she would assume the financial responsibility by becoming an actress in, first, Marathi and, later, Hindi cinema.
"I had no choice," she confesses, simply, but "I never liked it -- the make-up, the lights. People ordering you about, say this dialogue, say that dialogue. I felt so uncomfortable."
Fortunately, her training in classical music and her disciplined voice started to fetch her playback assignments, but it would be a few years before the song that established her reputation -- Aayega aanewala from Mahal -- came her way, and even then it was touch and go.
"There was a lot of discussion about whether we should re-do it or replace it," she recalls, though "when the film was released, it was the first of Mahal's songs to become popular."
While she remembers with fondness the camaraderie that bound Bombay studios and sets together, Mangeshkar seemed to be forever working. "I worked hard," she says, "recording songs from morning to night. Running from one studio to another."
As a result, "I ended up going hungry all day because I didn't even know recording studios had canteens and I could buy something to eat or get some tea. I often went without food and water for the whole day."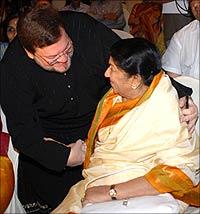 In the fifties though "I can't say my financial situation was good, but neither was it bad, because I had a lot of work" and what with rehearsals, and gaining the studios only when the day's shooting schedule was over, "we went onto the studio floor and recorded through the night. The place was full of dust, the lights were still burning hot and it was sweltering. We couln't use the fans because of the noise they made," she reminisces. "I have recorded so many songs in difficult and trying conditions."
Those were times when, while singing duets, "both singers used the same microphone. I would stand facing the mike and the other artist would stand near me, leaving a little space between us. I had a big problem when singing with Hemant Kumar. Because he was much taller than me, I needed to use a small box or stool to stand on and sing," or when recording when she had high temperature "I fainted at the end of the recording", though, as Kabir notes of the song Tu ganga ki mauj hai her voice doesn't have a trace of being unwell.
While she comments about colleagues and friends in the industry, what's even more revealing are facets of Mangeshkar's personality that allow a glimpse behind her usually formidable façade -- such as learning flawless Urdu diction when criticised by Dilip Kumar for her pronounciation, or that "I like listening to Mozart, Beethoven, Tchaikovsky and Chopin. I have many Western classical music albums," and among her favourite singers are "Nat King Cole, the Beatles, Barbra Streisand and Harry Belafonte" and she professes to also "like the Egyptian singer Oum Khalthoum and the Lebanese singer Fairouz".
These, her tiffs with Mohammad Rafi "over royalties" and Raj Kapoor when he changed the composers for Satyam, Shivam, Sundaram, her quarrels with Shammi Kapoor, her fondness for mimickry, her cars (the first, a grey Hillman, and later a Chevrolet, a Chrysler and second-hand Mercedes and the gift, recently, of a new Mercedes by Yash Chopra for singing for Veer Zaara), her dislike of cigarette smoke but love of diamonds ("and emeralds too"), as well as interest in photography (beginning with a Rolleiflex she bought for Rs 1,200), her passion for cricket, and her visits abroad when "I even saw the great Marlene Dietrich singing on stage. I will never forget her in the excellent Witness for the Prosecution. I also saw Ingrid Bergman in the play The Constant Wife", and most of all her critical view of herself, make this a remarkable book.
"I have always depended on myself," says Mangeshkar, "In that sense, I am a self-made person. I have learned how to fight. I have never been scared of anyone. I am quite fearless."
Who would have thought that of the frail little person who once bought Pandit Jawaharlal Nehru, along with the rest of the country, to tears?
LATA MANGESHKAR …in her own voice
Conversations with Nasreen Munni Kabir
Publisher: Niyogi Books
Pages: 268
Price: Rs 1,500
Powered by