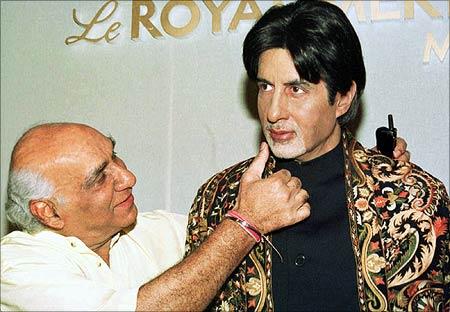 On Thursday afternoon, Bollywood is all set to take over the media capital of America -- Times Square in New York City -- in celebration of Asian American Heritage Month.
In addition to some authentic Bollywood singing and dancing, onlookers will get another special treat -- Amitabh Bachchan.
Not the real deal, however, but his wax figure.
The famous Madame Tussauds is inducting her new 'Bollywood Zone', and Bachchan's figure has been chosen as the one for the occasion.
Bachchan's figure is dressed in a traditional black Sherwani suit with a gold and black scarf draped around his neck. It is the first figure to be part of Madame Tussauds New York's all-new Bollywood Zone, which was created after numerous visitor requests. The brightly-coloured, fully-interactive area will include a replica of the Taj Mahal, videos of Bollywood dancers and a photo area where visitors can pose as Bollywood stars -- all designed to re-create the experience of being on a Bollywood film set with Bachchan.
Over the coming years, Madame Tussauds plans to expand the area to include figures of other prominent Bollywood stars.
Other Indian stars to get the Tussaud treatment are Salman Khan, Shah Rukh Khan and Aishwarya Rai.

In the picture: Yash Chopra takes a closer look at Amitabh Bachchan's wax figure. Photograph: Str Old/ Reuters.