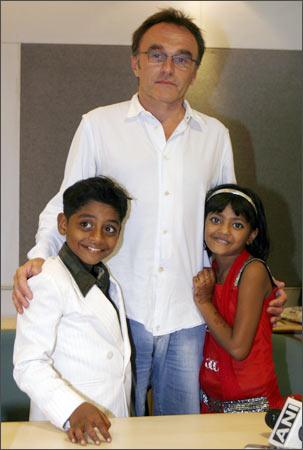 Days after the news of Slumdog Millionaire's Azharuddin Mohammad and Rubina Ali's homes being torn down made headlines, Danny Boyle, the film's director decided to do something about the children's plight.
The British director flew down to Mumbai along with producer Christian Colson and announced his decision to rescue the homeless children.
The director, who cast Azaharuddin, 10, and Rubina Ali, 9, as young Latika and Salim, is saddened by the reports that the young children have lost their shanty homes in a demolition drive in Mumbai.
Though a 500,000 pound trust was announced to help with schooling and finding new apartments, Boyle told The Sun that 'their lives do not appear to be any better.'
Even as Boyle announced the news, Rubina's father Rafique Ashgar Ali Qureshi walked out of the meeting in a hurry as he was upset that they could not get a new home.
"I still don't believe them. It is more than six months now after the film became a big hit and we still don't have a roof over our heads," Rafique told rediff.com.
"They told us to find a house. When I did that, they said it is too expensive and that they won't be able to afford it. I have no idea whether this time too they are serious or not," he added.
S Parasuraman, Director, Tata Institute of Social Services however, says that Azhar can move into his new house by next week.
Parasuraman, who is also one of the trustees of the 'Jai Ho' trust founded for the welfare of slum children says, "The discussion for Rubina's home too is in the final stages and we will sign a deal soon."
Asked about Rafique's allegations, Nirja Mattoo, another Jai Ho, trustee admitted that they have not been able to find a place for Rubina yet because her family wants a place in Bandra locality only.
"We have tried to find out a home for them in that locality but have not managed to do so. They don't want to move out of that locality and therefore it is taking some time. Azhar's family on the other hand was ready to move out of Bandra and therefore we could find them a home in Santa Cruz where they will move in one week's time. We are hopeful to get a home for Rubina too," he said.
Image: Boyle poses with Azharuddin Ismail and Rubina Ali after a news conference in Mumbai.
Text: Syed Firdaus Ashraf in Mumbai | Photograph: Punit Paranjpe/Reuters