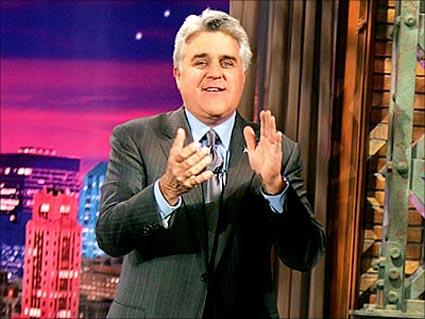 Hosting The Tonight Show is perhaps the most important position in all of US television. For whoever occupies the seat behind its famous studio desk is not merely another talk show host, he's America's funnyman.

Today, after 17 long and laugh-filled years, Jay Leno will sit in that seat for the final time. And when he vacates it -- a place he's held since May 25, 1992 -- it will usher in a new era.
Appropriately, his final guest is the man who is expected to fill Leno's larger-than-life sized shoes -- the new host of The Tonight Show, Harvard-educated comic Conan O'Brien.
Their encounter will be a moment for the ages: the switch from Leno, 59, to O'Brien, 46, is a huge shift in style. It is a move away from Leno's tried-n-true home-style comedy to the spikier humour which O'Brien has flashed during his years as a comedian, writer (Saturday Night Live and The Simpsons) and talk show host. It's been said that NBC has wanted to make the change for many years; reports of O'Brien succeeding Leno began as long ago as 2004.
Leno's take on The Tonight Show is still hugely popular, with about 5 million nightly viewers nightly. But their profile is ageing. O'Brien is viewed as an important piece of The Tonight Show's efforts to remarket itself for the next generation.
The end of The Tonight Show with Jay Leno also ends Leno's head-to-head rivalry with fellow comic David Letterman, who hosts a similar show on CBS. The two were the top contenders to take over from The Tonight Show's most famous host -- Johnny Carson -- who manned the studio desk for 30 years. Carson, it is rumoured, wanted Letterman, but execs went with Leno. In the early years, those same execs must have been sweating over their decision, as Letterman consistently led Leno in the ratings from 1992-1995.
But for the last 14 years, Leno has been in front, despite being widely panned by critics for allegedly handling guests with kids' gloves and relying on predictable jokes.
Now, however, he'll continue with his own shown on NBC, but in the 10 pm time slot. The Jay Leno Show will begin in September, five nights a week.