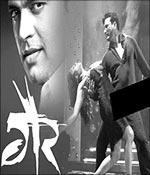 Strange things happen in Marathi film Gair, directed by Satish Rajwade, from the very first scene.
A man cries 'you cheat' even as he collapses to his death, to be followed with the frame of a person crushing a cigarette under his foot sometime in 2006. In the very next scene -- circa 2007 -- a corpse is shown floating in a swimming pool with the same foot crushing a cigarette.
Cut to today and you have a young, dynamic and dashing corporate honcho -- Sandeep Kulkarni (Sameer Shroff) of Dombivli Fast fame -- receiving a phone call amidst a crowded press conference. He comes back and tells all those present that he will tie the knot very soon as per his mother's wishes.
The plot becomes thicker and stranger now. Sameer gets married to an NRI Neha (Amruta Khanvilkar, looking glamorous for a change compared to her plain-Jane looks in many television serials) and instead of consummating the marriage, prepares to go out of the city for an important meeting.
Strangely, the bride's father asks the groom if he can take his daughter back to his house for that night and the groom happily agrees.
Enter Sameer's look-alike, who then goes on to consummate the marriage even as Sameer vamooses to yet another urgent meeting. It's a strange plot about which the less said the better.
Characters like the inspector, who comes from nowhere to probe the presence of the other (Gair), Sameer's partners Josey and Netra, his mother, a stereotypical Parsi are mere caricatures that float around to make the enterprise look and feel like a whodunit. However, the film fails in arousing (no pun intended) the viewers' interest -- a young college couple who were more interested in their own privacy than in the film left the theatre soon after the interval tells it all -- up until the last 15 minutes when you add two and two together and make some sense out of the film.
Director Satish Rajwade seems confused throughout the film but shows a few sparks of brilliance especially when the film's chief protagonists -- Kulkarni and Ankush Chawdhari -- come face-to-face in a few tense scenes.
Amruta Khanvilkar looks very attractive in the two songs that seem contrived to raise the glamour-quotient of the film. While all the characters prove their acting skills with ample sincerity, the screenplay fails to help them add life into the film.
Rediff Rating: