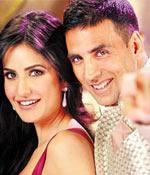 Spunky music has always been a mainstay of Akshay Kumar treats. From Khiladi to Kambakth Ishq, there's been at least one catchy track to 'chiggy wiggy' on.
Too bad his latest Priyadarshan-directed comedy, De Dhana Dhan, which reunites him with Hera Pheri mates -- Paresh Rawal and Suniel Shetty and precious co-star, Katrina Kaif doesn't have a memorable soundtrack on its USP menu.
And the man responsible for this no show is the usually reliable composer Pritam. With hastily dished out numbers against a line-up of uninspired lyricists like Irshaad Kamil, Sayeed Qadri, Neeraj Shridhar, Sameer and Ashish Pandit, De Dhana Dhan fails to live up to its bonanza title.
The memories of Ajj din chadheya from Love Aaj Kal are still too fresh to overlook its glaring similarity to Rishte naate. And it's not only because Rahat Fateh Ali Khan's minty-fresh vocals are at the helm of both. While this gooey ode to romance and commitment is a pleasant ditty on its own, the running predictability ruins it for you.
Up next, the massively off-tune Paisa, performed and produced by UK-based Rdb (which ironically stands for Rhythm Dhol Bass) along with Manek-E and Selina try to pass off its jarring notes as stylised rap. Too bad the band fails to repeat the magic of the frothy title song from Singh is Kinng.
Banjyotsna could easily fool you with her eerie resemblance to Alisha Chinai's oomph-oozing huskiness. But this observation is the only note-worthy aspect of the mediocre Gale lag ja. A random filler of a song, Gale lag ja doesn't echo any of the lyrics professed steaminess or sensuality. That said, you can trust Akki and Katrina's unfailing chemistry to more than make up for this deficiency on screen.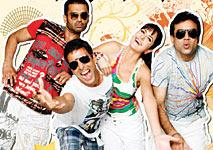 Mika Singh, Domnique Cerejo and Style Bhai (Remember him?) let their hands down for Baamulaiza. Its cliche, carnival meets calypso settings are hard to miss and despite the buoyant vibes infused by its playback troika, Baamulaiza is as crackling as a soggy papad.
Sunidhi Chauhan joins in the party of poorly-written, randomly composed creations with a so-called item number, Hotty Naughty. The in-your face seduction of its lyrics and jangling arrangement is simply put -- neither hot, nor naughty.
De Dhana Dhan wraps up with Ad Boys take on its title track. Sameer whips up some lackluster rhyming words to get it rolling. While there's nothing awe-worthy about its fast-paced chanting, it still fares better than the rest of its lot. And that's saying something.
As mandatory to most albums, the original songs are accompanied with a set of remixes, engineered by DJs bending and breaking the tempo to an enhancing or grating effect. Only here the source material is already so limp, no amount of technological beating is going to make it click.
If only De Dhana Dhan's soundtrack was as rhythmic as the name suggests.
Rediff Rating: