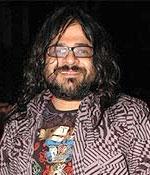 A pair of twin flats on the seventh floor of a housing society in Oshiwara, Mumbai, is music director Pritam Chakraborty's office, residence and hi-tech studio all rolled into one. As I wait to meet him in the guest room, actor Akshay Kumar (wearing red trousers) comes by with director Priyadarshan.
"Not every star comes for music sittings," says Pritam, "but this is Akshay's home production, Khatta Meetha, so he is more serious."
Pritam has been in the Bollywood music business just eight years, but is already Mumbai's busiest music director. The two cabinets in the room where we are sitting are almost filled with trophies. So I ask, when will another cabinet be required
Pritam is modest: "Yes, there are some trophies. But actually I have not received any major award so far. I am yet to get a Filmfare Award. I got two Zee Cine Awards but those were for two songs, not for the entire album."
Becoming a music director was never part of his plan, or even a dream, Pritam says. Music was a hobby and Pritam thought it would remain just that, jamming with Bengali bands being the only high point of that interest. He was briefly part of a popular Bengali rock band called Chandrabindoo.
In fact, Pritam enrolled himself in a master's course in a science subject, simultaneously sitting for job-related exams. "One day I bought a thin brochure. It was about various entrance exams. There, the Film and Television Institute of India [FTII] exam was also mentioned. It sounded interesting," recalls Pritam, lighting a cigarette.
The FTII entrance exam, though, coincided with a job exam that Pritam's parents wanted him to sit for. "I was standing [next to] a Kolkata bus stop with the two admission cards, sipping tea from a roadside stall and wondering what to do. For the FTII I had to go to south Kolkata, and the job exam centre was at College Street in the north. The southbound bus came first, and my fate was sealed," he says, grinning through his beard.
Those three years at FTII, Pritam says, shaped his career and gave him a sense of the film industry. Even so, he doubts the FTII diploma had much to do with his success as music director. In this industry, he explains, one learns on the job.
Today, Pritam says, everything about his life is like "a midsummer night's dream". "I saw Sunny Deol's Samundar three times, bunking tuition classes for R D Burman's music," he confesses. "Now, I feel strange that I am actually talking to Sunny Deol. Honestly, at times I can't connect to the reality that I am meeting people like Shah Rukh Khan, Amitabh Bachchan..."
In 2009, Pritam has 17 films releasing, compared to 15 in 2008 and 12 in 2007. Pritam says his days aren't about adhering to rigid schedules. Though he is under tremendous pressure, there are days when Pritam prefers to just sit at home. Sometimes Pritam confesses to having sleepless nights.
"One thing that has definitely happened over the years -- my health has deteriorated. Now I am planning to take better care of my body and slow down a bit. There are no Sundays in my life," says Pritam, a chain-smoker who recently had to cancel a trip to the USA on account of sudden chest pain.
Until a few years ago, music director-singer Himmesh Reshammiya's nasal voice was all over popular FM radio stations and in nightclubs. A R Rahman generally sings one song in each of his albums. Pritam, unlike his peers, has sung in just three films. He "can't sing very well", he says. One or two songs are fine, but not more.
"I can't stand my own voice, so how can I expect other people to like it?" Pritam says, self-effacingly. The song is more important than him singing it: if Pritam has someone in mind while composing, then he goes the extra mile to call that singer. "When I was composing 'Tum Se Hi' (for Jab We Met), I could hear Mohit Chauhan's voice in it. But he was untraceable at that time. I had to wait for a month to find him and record the song."
Times have certainly changed for Pritam. He may now own plush Mumbai real estate, but he comes from a modest background. Back home in Kolkata, Pritam recalls, before every monsoon he would have to help his father repair the asbestos roof to prevent leaks. He wants to hold on to that same Pritam Chakraborty of Presidency College.
"I have forcefully tried not to change myself at all. You never know (about) tomorrow. O P Nayyar died in dire circumstances. An actor who was a superstar just five years ago doesn't have any work now. In this profession, it is really difficult to predict kal kya hoga. One should not take money and fame seriously," he says, reflectively, looking out the window as he speaks.
In the middle of our conversation, Pritam receives a message from the owner of T-Series, Bhushan Kumar, who says that he is coming to meet him. At the same time, his sister peeps in to say that lunch is ready. Pritam juggles both while sharing with me his unhappiness over the fact that radio jockeys do not announce music director's names while playing their music.
Reshamiyya was quoted as saying that a song's identity is shaped by the music director and not the singer. Pritam feels that is yet to happen. "It will take some more time but, hopefully, it will happen. The RJs never mention the lyricist or music director. They still say, 'Listen to this Kunal Ganjawala song.'"
"But one thing is clear," he continues. "The importance of a single singer is gone." Why is that? "Major variation in Hindi film tunes and lyrics isn't possible. Freshness can only be brought in through orchestration or new singers. In a way a voice is an extension of the orchestra. So there is a demand for new singers to make songs sound fresh."
Sometimes there is pressure from producers or music companies to use new singers. "Producers at times request us to use a certain singer. When I started my career, there weren't many new singers. I pushed for new voices. Now people are more open."
Earlier, producers and directors used to be loyal to music directors. Now such loyalty is rare. Pritam disputes that: "My directors haven't left me! Priyadarshan, Imtiaz Ali, Anurag Basu. Although I trouble them, they come back."
With that, he leaves to have lunch and finish another hectic day.
Photograph: Pradeep Bandekar