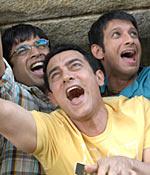 A soundtrack is like an opening batsman, one expects it to begin on an impressive note serving as a happy indication of things to come. And so every time an anticipated film's music hits the racks, everyone hopes the final product will be directly proportional to its fabulous melody. That this is hardly ever the case hasn't diminished one's enthusiasm in the least bit.
Director Rajkumar Hirani borrows a whiff of an idea from Chetan Bhagat's Five Point Someone to cast 40-30something actors like Aamir Khan, R Madhavan and Sharman Joshi as first-year engineering students in his eagerly awaited 3 Idiots. The young caper also stars Kareena Kapoor and Boman Irani. The droll promo has generated tremendous interest as has the curiosity about the novel promotion techniques mandatory to an Aamir flick.
The music, composed by Shantanu Moitra (Parineeta, Yahaan, Hazaaron Khwahishen Aisi, Lage Raho Munnabhai) against Swanand Kirkire's penmanship, isn't stuff instant chartbusters are made of but stands unique for its palpable freshness and nonconformity.
There are songs which are not necessarily mellifluous but catch on nevertheless owing to their everyman appeal. The good-humoured All izz well with its whistle away your woes approach, falls in that category. Performed with boyish, animated vigor by Sonu Nigam, Shaan and Kirkire, All izz well doesn't have the sleekness or spunk of Pathshala (Rang De Basanti). Instead it plays out with the callow fervor and pedestrian bounce of Samjho ho hi gaya (Lage Raho Munnabhai). All izz well comes in a remix version as well.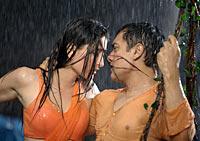 Akin to his earlier composition, Aane chaar aane, Moitra paints an old world charm and sublime drama around Behti hawa sat ha woh while celebrating (and recalling) a happy-go-lucky, dynamic attitude of its protagonist. The smooth quality of Shaan's baritone perfectly conveys an awed state of mind in the poetic, idealistic workings of this leisurely-paced number.
Suraj Jagan and Sharman Joshi crib and croon for a break from a humdrum, competitive existence to grow up all over again in the loosely rebellious riffs of Give me some sunshine. While there are enough songs blaming chemistry laboratories for their miserable conditions, Give me some sunshine is mostly a monotonous whiner with Joshi pitching in bits of grumpy rap every now and then. The track doesn't possess enough punch or humour to truly hit home or heart.
Heightened sentimentality is a Sonu Nigam specialty. The singer uses this prowess with restrain and emphasis, alternately, to produce the high-pitched, emotion-packed Jaane nahi denge.
In almost every second soundtrack, romance is the running theme of the songs. Not 3 Idiots. In fact the only time Moitra makes a gooey exception, it's for the 1960s-flavoured rain ditty, Zoobi doobi. Nigam and Shreya Ghosal tic tac to the semi-rock and roll beats of Moitra's upbeat, whimsical creation. It's catchy, alright. Moreover, the prospect of watching Aamir and Kareena jive to its beats reads like bonus. This one comes in a fast-paced remixed avatar too.
Like I earlier mentioned, 3 Idiots isn't for the ready-steady-go listener. But if you pay this short 'n' sweet soundtrack some extra bit of attention, its curious tunes are bound to grow on you.
Rediff Rating: