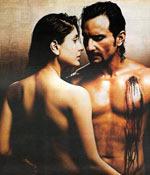 Expressing indignation over a poster of Karan Johar's [ Images ] latest production Kurbaan [ Images ], where Kareena Kapoor [ Images ] flashes her bare back, Shiv Sena [ Images ] workers tied a sari around one such poster in Juhu [ Images ], a Western suburb of Mumbai [ Images ].
The Shiv Sena women members were led by the area chief Jitendra Janawale.
"How are such obscene posters being allowed by the authorities?" Janawale asked. "Several women and children pass by the posters. What effect will it have on them? We will soon visit Kareena's residence and present her a sari."
The movie, starring Saif Ali Khan [ Images ], Kareena Kapoor and Vivek Oberoi [ Images ], is slated for release on November 20. It is directed by first-timer Rensil D'Silva and is a romance set against the backdrop of terrorism.
The film, which is already in news for a steamy love scene between Kareena and Saif, has been shot in Philadelphia, Delhi [ Images ] and Mumbai.