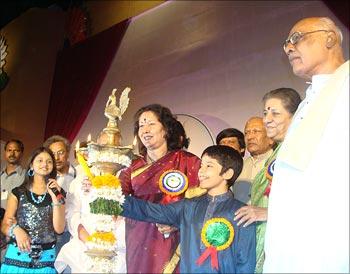 Like the rest of the country, Hyderabad celebrated Children's day on November 14.
But unlike the rest of the country, the city had something more to offer the kids, in the form of the 16th International Children's Film Festival of India.
This gala film festival is organised by the Children's Film Society of India (CFSI) in collaboration with the Andhra Pradesh Government's Film and Television Development Corporation. Nandita Das is the chairperson of CFSI.
What's on offer are films where children get to learn about the culture and lifestyles of other countries by viewing these films. The festival offers children the unique opportunity to judge films as members of the jury. In fact, prizes are given to the films chosen by the child juries.
The festival comprises three main sections -- International Competition, Asian Panorama and Children's World. The festival has three sections, namely International Competition, Asian Panorama and Children's World.
Some of the countries participating in the International Competition Section include Belgium, Croatia, Germany, Italy, Latvia, Russia, Spain, Sweden, Switzerland, The Netherlands and UK. Films from China, Iran, India and Sri Lanka will be shown under the Asian Panorama.
Under the children's world section, Austria, Croatia, Denmark, France, India, Iran, Spain, Sri Lanka, Sweden and UK will showcase their films.
This year's festival package will have a special screening of UNICEF films. Each of the juries of the three sections (there are two child juries too --- one for international competition and one for Asian Panorama) have five members each.
The international and Asian Panorama juries have members from different countries including one from India. A number of awards along with prize money will be given in each section -- the International Competition and Asian Panorama like the Golden Elephant for the Best Feature Film, Best Director, Silver Elephant for the Best Short film, Best Animation film, Best Screenplay and a golden plaque for the Best Film to be selected by the Children's jury.
Image: Taare Zameen Par star Darsheel Safary lights the lamp at the inaugural ceremony.