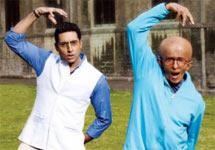 Ilaiyaraaja is back in Bollywood with Paa, and he brings with him his distinctive sensibility and flourish. The perfect communion of Carnatic and western music -- notably jazz -- the fat grooves with bold keyboard, guitar and bass lines and a minimalist arrangement, it is a sound we rarely get to hear in this part of the world. 
A look at the track list and you'll notice the alliterative, rhythmic song titles -- Mudhi Mudhi Ittefaq Se, Udhi Udhi Ittefaq Se, Hichki Hichki, Gumm Summ Gumm... The percussive feel extends to the way the songs have been laid out.
In Hichki Hichki for example, the entire song seems to have been constructed on the Indian rhythmic cycle of seven beats (rupak taal) to which Ilaiyaraaja gives his own spin. Swanand Kirkire's mastery with the lyrics is evident here, as Sunidhi Chauhan's vocals seem to have been challenged to the max with this difficult, unusual song. Witty, catchy. 
Gumm Summ Gumm sung by two youngsters Bhavatharini and Shravan is another complex number, which is a fusion of Carnatic and jazz. The song goes off to a different zone with a lovely jazz piano solo and swings back to classical effortlessly. The sweet melody manages to stay with you.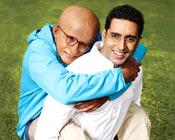 Moving on to the most significant song of the album, Mudhi Mudhi Ittefaq Se (Shilpa Rao) -- which turns into Udhi Udhi... and finally Gali Mudhi... with slight variations in the arrangements and lyrics -- the song moves from sparkly (Rao's versions) to sombre, when Shaan sings it. His version (Gali Mudhi...) is slower, with the rhythm section kicking in much later in the song and Shaan sounding as he's not done before. Nice tune.
The piece de resistance of Paa is the track Mere Paa, sung by Amitabh Bachchan. In his effort to sound like a young boy suffering from a debilitating disease, Bachchan gets the intonation, expression and emotion chillingly real. It is a heart-rending composition that is not about the music or arrangement, but flows like a narrative. It is a loving, poignant picture of a mother by the boy as he attempts to croon to his father. Brilliant job by Kirkire and of course, Bachchan. 
 
Halke se Bole, a kids' group song is a short and sweet, almost like a chant while the violin-driven theme song of Paa is simple, soulful and bound to stay on your lips.
The music of Paa is artistic and different with the lyrical and musical mastery amply evident. Somehow, you get the feeling as if there is something missing in all this show of wizardry. A little more 'heart' maybe? 
 
Rediff Rating: