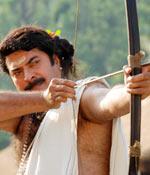 After storming theatres in Kerala and many other places, filmmaker Hariharan's Pazhassi Raja in Tamil will hit theatres all over Tamil Nadu on November 20.
If Pazhassi Raja was introduced by Mohanlal in Malayalam, it is Kamal Haasan who does it in Tamil. If no aggressive marketing was not done in Kerala, producer Gokulam Gopalan is leaving no stone unturned in marketing the film in Tamil.
The greatest asset is Sarath Kumar, who plays Pazhassi Raja's commander Edachena Kunkan. Pazhassi Raja is the first Indian king to revolt against the British East India Company in 1797, much before the Sepoy Mutiny in 1857.
A promotional bus with pictures of Sarath Kumar and Mammootty was flagged off by Sarath Kumar, which will travel all over Tamil Nadu till the movie's release.
Talking to rediff.com from Kozhikode, an elated Hariharan expressed extreme happiness over the way the film has been received everywhere.
"The film is doing extraordinary business all over Kerala, and in the theatres it was released in Mumbai and Delhi. Last week, we released a subtitled version in the USA too with amazing response from viewers."
The reason for such a response, according to him, is the universal theme of patriotism in the film. "Though the story is about a small king in Kerala, the theme is universal. That is why it has been warmly accepted by all. This is not only the biggest of my long career, but the biggest hit in Kerala. I am overwhelmed."
Hariharan is confident that Pazhassi Raja will be received by the people of Tamil Nadu also with the same warmth.