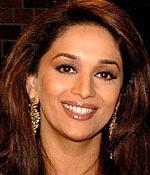 Madhuri Dixit is set to play late Prime Minister Indira Gandhi in a new film, Mother: The Indira Gandhi Story, it has emerged.
Filmmaker Krishna Shah will direct the film, which will be released in two parts. The first part will come up at the end of 2011 and part two about seven or eight months later.
Shah mentioned that the film would be multilingual. 'It will be in Hinglish,' Variety quoted him as saying. He added, 'It''s such an exciting, dramatic story. The canvas of her life is too big to be contained in one film.' The filming is set to kick start in India in April next year.
Some parts of the film will also be shot in the US, UK and Russia. Shah has apparently been writing the script for 23 years. When asked about the budget he replied: 'It's bigger than Paranormal Activity and less than Avatar.'