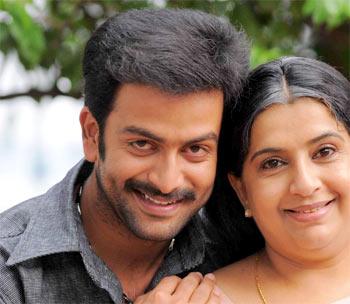 He has long been regarded as a Thanthonni, which means someone who is headstrong and does things on his own without caring about others.
Prithviraj agrees he is one -- in real life too. No wonder, he thinks it's the perfect title for his forthcoming film as well.
Scripted by T A Shahid and directed by debutant George Varghese, the Malayalam film talks about Kochu Kunju (Prithviraj), the youngest kid of a wealthy joint family who lives life on his own terms.
Sai Kumar and Ambika play Prithviraj's parents in the film.
Shahid has earlier scripted hugely successful films like Rajamanikyam, Balettan, Ali Bhai and Mambazhakkalam among others.
According to the director, "Kochu Kunju has a valid reason to behave like this and deep inside, he is a nice man. He belongs to a well-off family but has to turn to his mother for money. It's an entertaining film, with an interesting storyline."
Telugu actor Sheela plays the heroine in Thanthonni. She has earlier played the female lead in Maya Bazar, in Malayalam. She plays Helen, a junior scientist at the ISRO and a tomboy herself, who is in love with Kochu Kunju's style.
The cast also includes Kalabhavan Mani, Jagathy Sreekumar, Suraj Venjarammoodu, Captain Raju and Vijayaraghavan. The film is being shot in Kochi, Ottappalam and Pollachi.
Sajith Menon wields the camera and Tej Mervin scores the music for Thanthonni.
The shooting of Thanthonni, produced by Marikar films, has just started in Kochi.