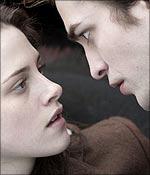 I wish I hadn't read Stephanie Meyer's international best-selling book Twilight before watching it unfold on screen.
It practically ruined the image of the characters in my head. Not that Robert Pattinson and Kristen Stewart as Edward Cullen and Isabella Swan, respectively, don't measure up. But because they do. And it is the crackling chemistry between the two that managed to keep us hooked to the otherwise rather bland movie.
The others, however, take getting used too. As I said, I wished I hadn't read the book first.
To be fair to director Catherine Hardwicke, she has tried to faithfully follow the book which is a love story between a bumbling and passive-aggressive teenager Bella and the drop dead gorgeous vampire Edward.
The story is set in Forks, a wet and dreary place somewhere in Washington. Things start to pick up after Bella catches sight of the Cullens, the foster kids of Dr Carlisle and Esme Cullen, at the school cafeteria on her first day.
She is irresistibly drawn to one of the Cullens, Edward, whose penetrating gaze and baffling behaviour leaves her both intrigued and confused.
Several clues lead Bella to find out that the Cullens are not like any human she has ever met. When she confronts Edward about the truth about him and his family, he shows her just how different they really are.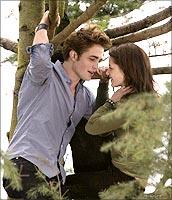 The movie doesn't have much action in the blood and gore department save for the climax where the bad vampires and the Cullens fight over Bella.
What it does have however is loads of tension-filled moments between the lead pair who are rumoured to be dating in real life too. There are some good special effects too like the piggy-back dash across the forest and up the trees. But these are few and far between.
While in the book, Bella's first-person narrative keeps us clued on to what the others are thinking and feeling, the movie feels rather stilted. Which is how most of those who haven't read the book will feel too.
But for die-hard fans of the book, the movie is just one way to see their beloved characters in the flesh. And had it not been for the perfect casting of Pattinson and Stewart, the film wouldn't have been so popular with tweens and teens the world over.
I just hope the sequel, New Moon, which releases abroad on Friday and comes to India on December 4, has more bite.
Rediff Rating: