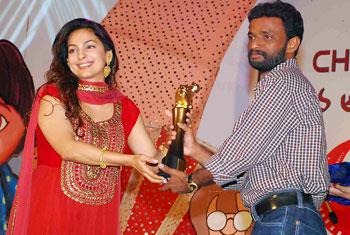 Pandiraj, the director of Pasanga, one of the best films made in Tamil in recent times, has won the Golden Elephant Award for Best Director at the 16th International Children's Film Festival held in Hyderabad recently.
The film is produced by director Sasikumar under the banner of Company productions.
The Golden Elephant Award for Best Film went to the Iranian film, Half Mine Half while the children's jury selected the Chinese film Two Men's Classroom for the Golden plaque award.
An elated Pandiraj told rediff.com, "This is my first film, and my first award. Not even in my wildest dreams did I expect to win an award, let alone an international one when I made the film. Pasanga was appreciated a lot when it was screened at the Children's Film Festival. But I never dreamed of winning the Best Director award. I was sitting among the crowd with Sasikumar next to me when they announced my name. I couldn't control my emotions. I hugged Sasi sir first and then went to collect the award. I can't tell you how happy I am. I assure all those who loved Pasanga that I will not let anyone down in my next film which is not going to be a children's film."
Image: Actress Juhi Chawla presents the Golden Elephant Award to Pandiraj.