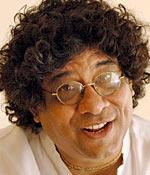 According to Krishnan Gomatham Seshadri, his directorial debut, M3V or Mudhal, Mudhal, Mudhal Varai is Tamil's first metro movie film.
"M3V takes the region out of regional cinema. It is a Tamil movie for a pan-India audience. The script is decidedly urban with no cliches. It has an internationally acceptable story idea, with matching script, setting and filming. It has world class music by Aslam Mustafa, contemporary costumes, smart cast and stunning locations," said the director.
The first recognition was when M3V was selected for the Indian Panorama at IIFK, Goa last year. It was followed by awards for "creative excellence" at New York International Film Festival and Worldfest, Houston International Film Festival.
"I am happy to tell you that M3V was selected for creative excellence at Houston out of 4303 films," said Krishnan.
When it was released, it was a sleeper hit in the metros.
The latest addition to his kitty is the Silver award at the Cairo International Film festival. It was described by the festival as "an engaging look at man's eternal struggle to understand the meaning of life and death."
The jury "found the director's use of a light-hearted narrative to explore a serious theme both innovative and endearing."
Krishnan Seshadri who return to India on Tuesday with the award spoke to rediff.com, "This film festival was started by Omar Sheriff, and out of thousands of entries in the Feature Digital Films, 14 films were selected. Because the competition was for digital films, entries were phenomenal. M3V was the only Indian film chosen.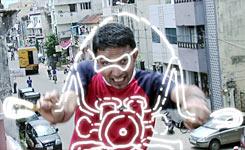 "They invited me for the competition, and after the competition, on the 17th of this month, the organisers asked m if I could stay back for the closing. I felt there must be something coming. Otherwise, they would not have asked me to stay back."
At the awards ceremony, he was made to sit in the first row from where he heard the name of his film announced first for the award [which was shared between M3V and Exile in Paris, a French film].
"I stood up and shouted. I was already a hit with the crowd with my fizzy hair! When I went up to collect the award, I got a standing ovation. It was fantastic collecting the award in front of so many people from all around the world. I am happy that my film has been winning international awards because I made the film for the universal audience."