The 'hopeless businessman' plans a comeback as a cool CEO who has learned his lesson the hard way.
Amitabh Bachchan says he doesn't want to be left behind and is trying hard to match the supersonic speed of Gen X, Y or Z. In doing so, he has noticed that he speaks much faster these days than he did 10 years ago, write Shobhana Subramanian and Shyamal Majumdar.
"That's cool -- a favourite expression of youngsters these days -- fascinates me. It compresses everything for which I would have perhaps used 10 sentences earlier," the megastar says.
Not any more -- the 68-year-old youngster has made "that's cool" a part of his everyday lingo. And that's the reason why he thinks he is still getting "some work" even after four decades in Hindi films. Gen X, we thought, would do well to reciprocate and take lessons in modesty from him.
We are at AB Corp's headquarters at Juhu, a stone's throw from his home -- Jalsa. The speed is evident in other ways, too. While it's common for stars, much lower in stature, to keep guests waiting for hours, we are ushered in to his well-appointed office where huge cut-outs of Auro (his character in Paa) greet us, almost on the dot.
Dressed in a white Pathan suit, Bachchan looks as imposing in real life as he does in reel life. We point out that his a-bit-rusty wrist watch looks familiar as we have seen it many times on 70 mm screens over the years. Bachchan is quick with a repartee: "You must have really noticed it when the camera took close-ups of me signing the cheques on Kaun Banega Crorepati," he says with a hearty laugh, ordering tea for us and lemon juice for himself.
The superstar is quick in gifting us CDs and signing autographs on miniature posters of the film. "Take one extra autographed poster please -- your friends might want one. I hope you will see Paa and enjoy it", Big B says. From anyone else, it may have sounded like a salesman's "buy one, get one free" pitch, but Bachchan's innate courtesy and passion for his film can be infectious.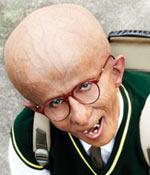 Paa, due for release next week, is something India's biggest movie star has never done before. Apart from his unique role of a 13-year-old with an extremely rare genetic defect that causes accelerated ageing, the face that you see in the film is the result of deep research. Kids affected by this problem become bald and their veins begin to show prominently on their heads, which enlarge to a size beyond normal. To get the special look for the character, director R. Balki roped in Hollywood make-up artist Stephan Dupuis.
The prosthetic process was arduous. Around eight pieces of specially-crafted clay models were meticulously stuck on to the face. Once the process started, it was impossible to move even a few centimetres. Eating and drinking had to be avoided and he couldn't talk because it would have displaced the pieces. The entire process took four-five hours every day over 45 days of continuous shooting. He was even willing to go through the process of showing his eyeballs bulging out to give a more authentic look to the character, but doctors said that would require injections in his eye every two hours which could affect his vision.
"Ninety per cent of the job is done if you have that kind of make-up. My grandchildren took care of the remaining 10 per cent," Bachchan says. That's the reason why he has dedicated the film to his grandchildren from whom he picked up the mannerisms of the boy in the film. The doting grandfather tells us that one of the biggest compliments he has received so far is from his granddaughter who pinged him just the other day, on his Blackberry, to say that Auro behaves exactly like Aggi (his grandson).
With Paa, Big B also dons another hat -- that of a producer in collaboration with friend Anil Ambani's Reliance Big Entertainment. While AB Corp is producing the film, the distribution rights are with Reliance Big -- a business model Bachchan intends to follow for his forthcoming ventures as well.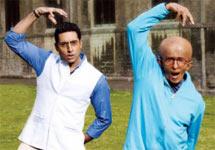 Bachchan says his family would do what they are best at -- giving creative inputs -- and depend on specialised companies to do the rest. "That's the model followed the world over. Fragmentation of roles and specialisation are the way to go," he says, with the flourish of a CEO making a slick presentation.
He is particularly proud of the fact that the production costs have been kept below the Rs 15-crore budget set by his son Abhishek. Paa cost AB Corp Rs 14.75 crore, of which a tenth went into Auro's make-up alone. "AB Corp has no intention of producing the so-called Rs 40-crore, 50-crore films which are sold for Rs 70-80 crore, making returns on investments that much more difficult," Bachchan says.
A self-confessed "hopeless businessman" a few years ago, Bachchan says AB Corp, founded in 1996, made a decent profit of Rs 16 crore in the first year, but ran into turbulent weather soon enough because of two reasons: One, he forgot that his specialisation was creativity and not other aspects of the entertainment business; and two, he depended too much on recruits from multinationals who could make slick presentations on impressive spreadsheets, but knew nothing about the intricacies of entertainment as a business.
In the process, he signed "ridiculous documents" and found himself alone when the cookie crumbled after the disastrous Miss World pageant. The debt burden was huge, but Bachchan says he ignored his friends' advice that AB Corp should declare bankruptcy, close shop and escape the debt recovery proceedings.
Bachchan worked harder to repay the dues -- every single paise of it. "Many of the debtors were from my own industry and I couldn't have looked at them straight in the eye if I hadn't paid back their dues. After all, the company derives its name from my late father," he says.
We have long overshot our allotted time and his aides walk in with worried expressions, but Bachchan is in a mood to talk. He doesn't think that there was anything wrong with the idea behind AB Corp and cites the corporatisation of the film industry that happened much later.
"A film can have so many brand extensions -- TV content, merchandise, music concerts, internet properties etc. AB Corp saw the potential much ahead of others, but the execution let us down," Bachchan says, taking a sip of lemon juice.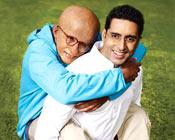 Is he dismayed by the failure of Bollywood films and TV serials to raise the quality bar? Bachchan says he indeed misses the fascinating films made by directors like Hrishida (Hrishikesh Mukherjee), but doesn't mind flowing with the tide. The reality is that an average Indian wants to forget his worries watching some nach-gana, action, beautiful locales and even more beautiful ladies on screen, he says, adding: "If the entire country (including wife Jaya) is willing to empathise with the participants of Big Boss 3 (a show he is hosting on Colors), who am I to stop them?"
How does he react to Sachin Tendulkar's famous comment that he is an Indian first and then a Marathi? Bachchan says the cricketer spoke what he truly believed in, but the question was asked by the media "with a purpose". The media has a responsibility to avoid such unnecessary controversies and it has to decide how to balance its money-making compulsions and social conscience -- the theme of his forthcoming film Rann.
It's time for us to leave, but we still steal time for the last question. Abhishek, who plays the role of his father, has described him as a mischievous son. How would he rate Abhishek as his father?
"Well, he is a very caring, conscientious and principled parent," Bachchan says, with all seriousness. Many youngsters would say "that's cool" to the rather prompt answer.