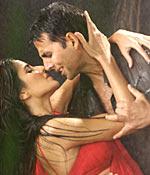 In Priyadarshan's latest film, Akshay Kumar, playing a miserable indentured chauffeur, whines about the state of his ragged uniform. He speaks of how the belt is held up by a pyjama drawstring, how the button is hanging on for dear life, and how there's really nothing holding it together.

He may well have been speaking of the film itself, a loud, overlong collection of slapstick subplots that would have nothing in common but for one man.
Priyadarshan, refusing as always to call himself a director -- 'filmed by,' proclaim his credits -- attempts to stitch together this ragtag quilt in his usual style, ending up with a stupidly elaborate monstrosity.

All manner of morons -- philanderers, dognappers, murderers, hookers, marriagable daughters and dumb-waiters -- congregate in a plush Singapore hotel, and chaos ensues. Big surprise.
There is much slamming of doors and misunderstandings involving rooms, and all is what you'd expect until we get to the climactic washout, which involves an undoubtedly impressive, albeit unnecessary, hotel flood.

Yet the film has been a damp squib right from the get go. The flaccid first half never quite recovers, and while the second half musters up a few genuine moments of mirth -- mostly because Manoj Joshi's face turns positively scarlet in anger -- it's too cruelly long to really help things. Also one suspects those rare second-half laughs occur simply because one is mindnumbed into submission.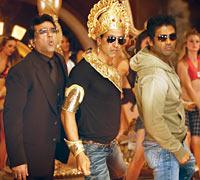 Akshay takes the safe route and spends most of the film locked in a cupboard; Paresh Rawal might have been funny had he delivered one single line without screaming; Katrina Kaif is reduced to crawling on the floor so Rajpal Yadav can trip over her; Shakti Kapoor plays *cough* a letch; Johnny Lever isn't altogether awful and Asrani gets a couple of laughs.

The only relatively pleasant surprises are Neha Dhupia looking startlingly yummy and the usually punctilious Vikram Gokhale being kicked, insulted and leapt upon -- the last bit by the aforementioned Ms Dhupia, just in case you were wondering.

Those are indeed the high points, so to speak. You've been warned.

Rediff Rating: