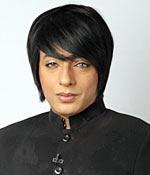 Bigg Boss will now be free of Rohit Verma's plotting, as he has been evicted from the house.
Rohit had been nominated along with Vindoo Dara Singh, who had also been unmasked for plotting against the housemates. Things were never the same for both after Bigg Boss exposed them for backbiting and arranging nominations in the house.
Rohit has been feeling low and guilty ever since he was exposed, as he had an inkling he would be evicted. He even cried and apologised to the housemates and promised to change his ways. 
But the audience clearly has had enough of him, and voted him out of the show.