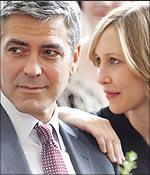 George Clooney is on a roll. The actor has three of his films running simultaneously in America in two weeks.
Joining The Men Who Stare at Goats, which could be ending its run in about four weeks and the just released animated film Fantastic Mr Fox -- both medium budget movies headed for decent profits -- is his third film Up in the Air.
A touching comedy about corporate greed and the heartless nature of downsizing business, Up in the Air was shown to critical and popular acclaim at the Toronto International Film Festival. The film may become one of his biggest successes. It has also created a lot of Oscar nomination buzz.
This weekend, Fantastic Mr Fox was at number 10 on the box-office hart, following Goat. When was the last time a major Hollywood star has had two films among the top 10? In about three weeks, he could have three of his films among the top 20.
Clooney wasn't the only one setting records this season. Sandra Bullock, whose sports-themed The Blind Side opened to strong business 10 days ago, saw its box office in North America go up by about 20 percent in the second weekend. It is the third release of the year for Bullock. Many critics believe it is her best film ever and an Oscar nomination looks assured.
'Bullock is most of the fun here,' wrote Mike LeSalle in San Francisco Chronicle. 'Bullock brings wit and incisive observation to the role, a familiar combination for this actress, whose charm sometimes causes people to overlook her skill.'
The film, which was made for about $35 million, has grossed $100 million in North America and now the box office pundits feel it could reach $200 million. Bullock reportedly cut her standard fee (at least $10 million) in exchange of a cut from the film's box office.
Last weekend, Blind Side, which opened with $34 million to New Moon's $142.8 million, looked like an underdog. It is isn't one anymore.
Most films fall by about 30 percent in the second week. And films with huge opening by about 60 percent. For instance, last week's sensation New Moon plummeted by 70 percent in North America to $42 million and made a yet sensational $240 million 10-day gross. Worldwide, the moderately priced $50 million film has reportedly grossed $475 million in just 10 days.
Studios stand to benefit a great deal from films which open big across America than from films which open to decent numbers and play steady for a longer time than the huge openers, and earn the title of sleeping hits. In the first two weeks, studios get 60-65 percent of the box-office gross, leaving the rest for the exhibitors. Subsequently, exhibitors' shares increase.
The word of mouth for Blind Side, an inspiring story of an African American called Michael Oher, an homeless and traumatized boy who with the help of a white family becomes an all American football player, is apparently quite strong. Bullock, 45, is getting a lot of praise for not only for her performance but for backing the film as well.
Though Blind Side received far more favourable reviews than New Moon did, many critics described it as an one-dimensional film.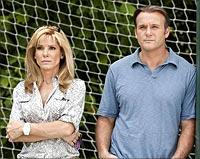 It 'never strays from the surface, parading a series of kind acts by Leigh Anne (Bullock) and Sean Tuohy (Tim McGraw),' wrote USA Today which gave the film two and half stars out of four, 'but never delving into the ramifications of their actions or exploring more complicated socioeconomic and racial issues. Oher's early life, with a crack-addict mom and absentee dad, must have been hard, but director John Lee Hancock glosses over it in favour of a more conventional movie for easier mass consumption.'
Bullock's first release this year The Proposal, a comedy grossed $160 million in North America and about the same numbers abroad. Her third film All About Steve was a box-office dud but even that flop could recover the money after its DVD run.
Since a Bullock film seldom costs more than $50 million, her flops don't lead to the studios into loss. And now with the huge success of Blind Side, which will play in major markets abroad soon, she has suddenly become one of the most bankable stars in Hollywood and is in league with the likes of Tom Hank, Clint Eastwood and Jim Carey.
Whereas most films gain in the second or third week when they expand from a small number of theaters into hundreds, as the Oscar-buzzing Precious has been doing, it is indeed rare for a film in wide release to boost its gross in the second week. And that too by 20 percent as Blind Side has done. The Bullock film is showing in some 3000 movie houses across America and Canada. It could continue its profitable run well into the first quarter of next year.