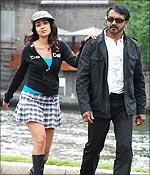 Director K S Ravikumar has always had a magic touch when it comes to full out commercial entertainers, and Radaan Pictures's Tamil flick Jaggubhai, once written for superstar Rajni himself, promises to be a pick of the cream.
The project, tagged "A Complete Father," now stars Sarath Kumar and Shriya Saran in the lead. Added to the equation is A R Rahman's erstwhile assistant Rafee's music. Here's a look at what the album has to offer.
Kabilan's Apple Laptop starts with an intriguing piece of instrumental music, and though you're afraid that it might descend into mediocrity once the vocals kick in, it doesn't quite do that.
Shankar Mahadevan and Chinmayi render the number and the lyrics are all about the charms of a young girl in the first bloom of youth. There are shades of Mudhal Mudhalaga from Unnaale Unnaale, and Chinmayi's voice, somehow, doesn't satisfy you as much as it usually does.
Still, the staccato pace during the charanam is definitely a variation from the usual, and though the tune seems to meander a bit, on the whole, the rhythm and chorus keep you interested, which is a plus. 
Rafee certainly believes in making the best impression in the first few minutes of the song, and the burst of violin notes that begin the fast version of Thuru Thuru is an example. Maheshwari Rani's strong voice carries along the definitely western song, written by Kadhalmathi, which deviates slightly from the usual random professions of loving earth, sky and rain.
Post the first few moments, though, the song sort of loses momentum, and the edge is no longer there, even as the piano and a medley of instrumental music take over. It's pleasant, but familiar.
Hariharan and Maheshwari Rani begin Ezhu Vannathil. Certainly, Hariharan's incredibly flexible voice has been used well, but the classical overtones don't really go well with the western feel.
The interlude adds a new layer, though. Kabilan's lyrics are all about a father, presumably, discovering his daughter, and declaring his eternal affection and devotion to her in a syrupy fashion. It's mildly appealing, but that's the most that can be said about it.
Vaa Dhinam Dhinam kicks off with Sunitha Sarathy and her chorus, mumbling something a la a tribal song, but its moves into a different plane from then on. The instrumental arrangement reminds you faintly of Sambo Sambo from Puthiya Mugham, but it's only for a brief spell.
This one's all about the free-as-a-bird heroine who's testing her wings into adulthood, and Na Muthukumar's keep the peppy feel intact, complete with random English words. Rapper Blaaze puts in an appearance as well. It's your mandatory youth song but with some zing in it.
The slower version of Thuru Thuru is intriguing in the beginning. It starts off with Maheshwari Rani clearing her throat once or twice, giving it a realistic feel. It's also, as the title suggests, the slower, more relaxed version, with the piano and violin adding to the feel. Otherwise, it's identical to its faster counterpart.
What feels like a rehash of Iruvar's Hello Mr Ethirkatchi begins the remixed, modern version of the evergreen classic from Kuzhandaiyum Deivamum. It feels pretty bizarre to hear Rafee's nasal voice and Maheshwari Rani's heavy vocals render this soft song.
It's certainly got the interest factor going for it but there's very little that's appealing about this version. Purists might certainly go at it with hammer and tongs.
Acham Madam Naanam, sung by Suchitra, begins with glass breaking and synthesized music, and judging by Kalyanji's lyrics, it looks very much like your mandatory erotic song, dressed up in modern-wear. The charanam in intriguing, though, and despite totally random phrases like "Gonna Make You Dance!" it sustains your interest. 
Rafee seems to be bent on thrusting as many sounds, voices and instruments at you, in as many synthesized bursts of music as he can, and though the end result must sound like confusion, he does make some of the numbers work. Barring the very heavy western feel, this album does have something going for it.
Rediff Rating: