A Ganesh Nadar is entertained by Suparn Verma's Acid Factory.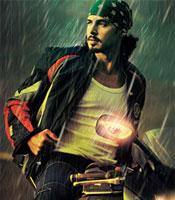 When I told Pooja that I was going to see Acid Factory, she said, "Balanced cast, 3 eye-candies, three good actors and one sex bomb."
What she didn't mention was breathtaking locales. I never knew that South Africa was so beautiful and so developed.
Suparn must have boosted the sales of used car lots -- he blows up so many in a fiendish car chase. The deranged driver's fiendish laughter must keep the front benchers delirious.
When you have two kids, people tend to compare. I know it's wrong to compare two babies, but nevertheless I want to do it and so I will. Suparn's first baby was Ek Khiladi Ek Haseena; his second is Acid Factory, which released on Friday.
I found Ek Khiladi Ek Haseena rather confusing; Acid Factory, on the other hand, is gripping. It's not just a whodunnit, but a who is 'I'. If you know the answer to 'Who am I', you achieve moksha the Vedas say. In Acid Factory the characters -- five men and a women trapped in a factory where they lose their memory for a while -- achieve moksha at various stages towards the end, and their moment of enlightenment is shared with the viewers. Except Fardeen Khan whose moksha moment is ambiguous and classified. Or maybe he is floundering in the Maya of worldly life.
Acid Factoryis fun to watch and the actors are far out. They all underplay their parts. There is no overacting and there is no trying to achieve dramatronics. They play their characters so well that you think you are watching a play and not a movie.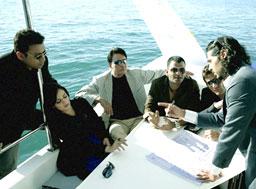 Suparn's first movie had sexual buzz. In his second, romance is completely absent. "There are no duets," Pooja added, maybe with a hint of complaint. Kaiser (Irrfan Khan) keeps warning Max (Dia Mirza) that Romeo (Fardeen) has a thing for her. His nickname apart, Romeo doesn't do anything faintly mushy to prove he has anything for Max or for that matter any woman he encounters, not even the pole girls dancing suggestively in one segment. The man is single-minded about his assignment.
By the way, this is the first time I have heard of a girl named Max. She means mayhem, so I guess it is Suparn's salute to Mel Gibson who made Max mad.
A Class 5 girl in the audience was upset that her favourite eye-candy dies in the movie. Her mother told her he deserved to die as he planned on killing his friend. Her mum and I argued that the killer was a bigger sinner as he had cheated his life-long friend in business. "Murder is a bigger sin than cheating," the lady, a former movie journalist of note, declared, crushing my argument.
The helicopter chase, the innumerable cars blowing up, the bike race, the buggy race held my attention and indicate that producer Sanjay Gupta didn't cut corners when Suparn shot this movie.
The songs are good, particulary Yeh Jism.
And while I usually come away from theatres wishing Bollywood movies were shorter, in Acid Factory's case I wanted it to last a little longer so that I could watch Danny Denzongpa, Manoj Bajpai and Irrfan Khan show us why they are such great actors.
Also check out: Raja Sen gets into the mad skull of director Suparn Verma
Rediff Rating: