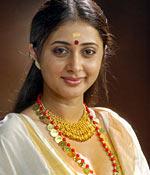 Tamil actress Kaniha, who stars in the much-awaited Pazhassi Raja, is home in Fairfax, Virginia, recuperating from a fall. Doctors have advised her at least three weeks rest, forcing the cancellation of a scheduled stage programme in Dubai.

Kaniha said she tumbled over a wooden staircase when she lost control managing two suitcases while vacationing in the Dominican Republic last week.

"It was not a big fall. The leg was twisted. Fortunately, there is no fracture." The doctor prescribed a pair of crutches and a great many pain-killers, she says.
Kaniha got married to Shyam Radhakrishnan, an IT professional and US citizen a year and a half ago. She has a Green Card too, and says she has already settled down in the US. Her sister-in-law, actress Jayashree, lives in California.

Kaniha is a little unhappy that she will not be around to witness the excitement of Pazhassi Raja's release because it will not be screened in the US in the near future. Pazhassi Raja, with versions in Hindi, Malayalam and Tamil, is being screened in 560 theatres across India on Diwali.

She has seen the preview, though. "I cried watching it, not because of pain but joy. It was a moment that filled my heart with satisfaction," says Kaniha, a mechanical engineer from BITS-Pilani. "This movie may be remembered for a long time. It is a landmark movie in my career," Kaniha adds.

The movie brings together Jnanpith award winner M T Vasudevan Nair, director Hariharan and actors such as Mammootty and Sarathkumar. It took two and a half years to make the film about Kerala Verma Pazhassi Raja, who fought the British in the 18th century and died in the battle, one of the first heroes of India's freedom struggle. Kaniha portrays Kaitheri Makkam, his wife.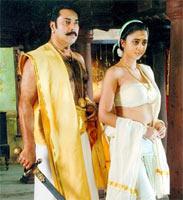 Kaniha, a Tamilian, who now speaks Malayalam, says that she never thought of getting such a big role. In one scene in a Tamil movie, she appeared as a queen. That caught the attention of director Hariharan. But when she appeared before him, he was not convinced she could carry out the role in his film. He had already interviewed 35 women for the role in vain. It was when he saw her in period costume, he opted for her.

"He wanted a heroine with a slender body and innocent face," she says. "I fit in that slot. I thought it was just another movie. When I saw the details of the project, I was shocked."

Kaniha said she had not heard of Pazhassi Raja before. "I have not seen the old Malayalam movie on Pazhassi Raja or the television serial. Once I came to know of his sacrifices, it kindled the patriotic spirit in me. These are forgotten heroes. We all know about Gandhi or Nehru. It is good that the movie shows such a great and forgotten hero who fought for us."

The heroine uses period costumes and no makeup. A lot of homework was necessary before she began the role, she says, adding that the long time it took also brought the unit together. She describes Mammootty in particular as a great actor and an ever-helpful human being.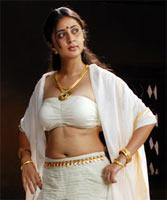 She is currently acting in another Malayalam movie, opposite Jayaram called My Big Father.

"I don't want to act in many movies, only in a select few, and one at a time. I prefer Malayalam movies for two reasons. One is that they are finished in 20-25 days so it does not affect my personal life [in the US]. Also, for the quality of those movies," she says. By comparison, a Tamil film may take six months or longer, although they pay better.

Usually, marriage is the end of the acting career for many actresses, but Kaniha got more opportunities after marriage. "In Tamil, after marriage, one will get only roles of a sister or mother. In Malayalam, there is no such problem. If you have potential in acting they will accept you," she says.

In Virginia, some people know her as an actress. She hopes to work in the US later, given that she has an engineering degree.