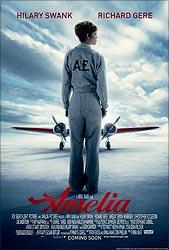 Aviation pioneer Amelia Earhart is an American icon. But to filmmaker Mira Nair, who has directed the biopic of the legendary aviatrix and women's rights advocate, Earhart's appeal extends far beyond America.
The movie, which is the biggest film Nair has made in her two decades of filmmaking, opens this Friday, October 23.
With Oscar buzz already and two-time Oscar-winner Hilary Swank in the lead role, Amelia could open among the top five films of the week.
From her sudden exposure to global fame in 1928 to her disappearance mid-flight less than 10 years later, Earhart's life was filled with exciting and challenging events.
Earhart, who became the first woman and second person to fly solo across the Atlantic in 1932, wrote the book The Fun of It, focusing on her adventure. Two years later, she became the first pilot to fly solo from Hawaii to California. In 1937, she and Fred Noonan took off from Miami on an around-the-world flight. After 22,000 miles of flying, they were last seen in Lae, New Guinea. No one knows what happened to them. There were speculations that her plane was shot down by the Japanese who enslaved her.
But Nair said she is not speculating in the film what might have happened. "There is enough excitement and drama in the life she led," she said with a chuckle. She said while the last 15 minutes of her film uses the transcripts from Earhart in the ill-fated plane, the ending is not simple.
"You have to pay $12.50 to know how the film ends," the director added, chuckling. 
Earhart was also known for leading a bold and uncompromising life as a woman ahead of her time. She took dangerous risks, she refused to see limits, and she became a symbol of the American spirit, Nair said.
"She is also an inspiration to men and women across the world," added the filmmaker for whom Amelia is the first Hollywood film with a raft of well-known actors including Richard Gere.
Nair said she wanted to make Earhart's life into a rousing, adventure-filled biopic.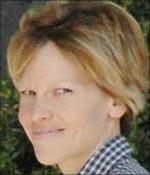 "Amelia declared there's more to life than being a passenger," Nair said. "It is a call for every person to participate in life with passion and vigour. And my film sums up these great qualities, but like I told my 18-year-old son, the film will not be like doing homework."
Amelia is being released by Fox Searchlight, which also released her last film, The Namesake, which earned a commendable $14 million in North America. Searchlight is known for taking small ($5 million) and medium range ($25 to $35 million) quality movies, and turning them into award-winning hits. It released Deepa Mehta's Oscar-nominated Water, and most famously last year, released Slumdog Millionaire which went on to earn $140 million in North America and win eight Oscars.
Biopics often garner Oscar nominations; and in the case of films like Ray, win the awards.
'Amelia is a love story and an action-adventure for the whole family,' Nair said in the production notes of the film, 'about a young woman who broke the boundaries and gave a lot to many different people. I wanted the film to be a living, pulsating portrait of this woman who dared to dream of things that no one had ever done before. Amelia lived life as fully as possible and didn't put a lid on her emotions or her ambitions. She left behind a legend that I hope will continue to fuel a passion in people to accept no limits.'
The Amelia project came to Nair just when Shantaram, which she was to direct for producer and actor Johnny Depp, got shelved following the three-month Hollywood writer's strike and Depp moving on to other projects.
"I read the preliminary screenplay [for Amelia] and I was hooked," Nair said.
Tedd Watt, the Avalon Pictures CEO and the pioneering co-founder of the technology company Gateway Inc, initiated the movie project over two years ago.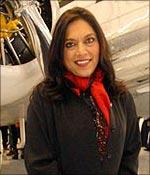 'Everyone today knows about Amelia's disappearance, but very few people understand her life,' Watt wrote in the production notes for the film. 'I thought her tale could be an inspiration, as well as very entertaining. She still ranks as one of the 10 most famous Americans of all time, and people are naturally interested in her -- yet not many know her real story.'
The movie, which is based on several books, has screenplay by two award-winning writers: Oscar nominee Anna Hamilton Phelan (Gorillas In The Mist) and Oscar winner Ron Bass (Rain Man).
They 'soared beyond the facts to get to the heart of the woman beating,' Watt said.
'One of the things that struck me in reading the screenplay was the idea that Amelia was, in many ways, America's first true modern celebrity,' Nair wrote in the production notes.
'She was not merely famous but so internationally idolized that her very name and image became a moneymaking machine. This fame granted her influence that she never imagined and, ultimately, she learned to use it to advance both women's rights and the age of aviation. Here was a woman who loved just one thing -- flying -- but because that was so revolutionary in her time, she came to stand for all kinds of other things including women's rights and felt a responsibility to be something more to people.  Amelia tried to reconcile what she needed to do for money and society against what she felt she had to do to be herself.'
Nair did a lot of her own research, reading articles and books including those by Earhart and her diaries and watching documentaries. "Amelia was a very good writer and I read everything she wrote," she said. "The more I read about her the more I was struck by the kind of sweet humility Amelia maintained through it all. I think humility and passion make such a lovely combination and is so rarely seen. That really interested me."
'Most of all,' Nair wrote in the production notes, 'I enjoyed in making this movie being able to show the core of what Amelia believed: That really we can do anything. I hope that people are as inspired by Amelia as I was.'
Swank echoed Nair. "If you have a dream, don't be afraid to pursue it," the actress said. "Believe in yourself. But don't forget to have fun along the way."
Photograph of Mira Nair: Paresh Gandhi