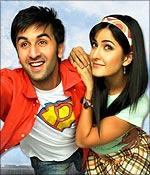 The spirit of Ajab Prem Ki Ghazab Kahani's music rests in just one song. Fast forward to track number 14, Tu Jaane Na, and let Kailash Kher weave his magic.
This song -- celebrating a simple, all-heart melody and performed to a rhythm guitar -- shows you how Kher can wring emotions out of notes like no other.
The antara especially, is reminiscent of the kind of earthy, folk-inspired tunes one heard during the sway of SD Burman. With some simple, poignant lyrics by Irshad Kamil, Tu Jaane Na does a superb job of evoking love and longing. Pritam scores a perfect 10 on 10 with this one.
Tu Jaane Na has been sung by Aatif Aslam as well, and the boy will surprise you with his mature take on this challenging number. His first version is purely driven by tabla and guitars. The arrangement in this track may remind you of Rahman's Khwaja Mere Khwaja (Jodhaa Akbar), but it bears Pritam's stamp all over it. Just a clean tabla theka is such a rarity these days, you enjoy it thoroughly.
The remix, however, is a let down and rather unnecessary. There is also a Tu Jaane Ja Reprise by Soham, Rana Mazumdar and Ashish Pandit. The melody glides on a more spaced out electronic groove here. Not bad at all.
Most of the others songs in Ajab Prem..., are high on energy dance tracks, with strong rap/hip hop overtures. Main Teri Dhadkan (KK, Sunidhi Chauhan, Hard Kaur), is just another party song, with a chorus that will eerily remind you of Aashiq Banaya Aapne.
Oh By God, resorts to a comic prelude with a shahnai intro- the melody which has been a staple at most Indian weddings. It is a fun song (Mika and Sunidhi), that begins well but dwindles into a tedious listen eventually.
Tera Hone Lagaa Hoon harks back to the candy pop romance, in the spirit of Tum Mile. Sung by Aatif and Alisha, it is catchy, glossy and unremarkable.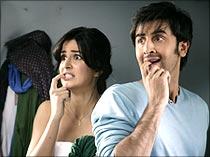 Prem Ki Naiyya (Neeraj Shreedhar and Suzanne De Mello) tries to marry folk lyrics and spirit with global pop. Let's say, the match may not be made in heaven, but works nevertheless. Especially when it appears as a remix later on. It is cheeky and fun.
Aa Jao Meri Tamanna (Javed Ali and Jojo) has rather average lyrics but comes loaded with keyboard hooks which are signature Pritam. The groove is quite hip too.
Hard Kaur gets to do her own number, literally, in Follow Me. This one's a Hinglish rap written by the flamboyant singer, cleverly designed to bring out her strengths. Now I am no great fan of her androgynous voice, but yours if you dig the genre.
Ajab Prem Ki Ghazab Kahani works simply because of Tu Jaane Na and Kailash Kher. It is probably one of the most elegant and evocative songs of the season.
Rediff Rating: