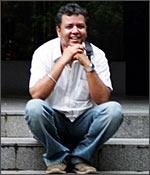 Some of Gulzar's poetry and lyrics are very soul stirring. But its beauty has been limited only to people, who understand the language.
Writer Sunjoy Shekhar has made things easier for Gulzar fans, and has translated 100 songs of the brilliant talent in a book called 100 Lyrics.
Sunjoy has earlier written television serials like Trikaal, Shanti, Yug, Sea Hawk and Koshish.
Patcy N talks to the Jharkhand-based writer -- now based in Jakarta, Indonesia -- and asks him why he chose to translate Gulzar's songs.

What made you choose to translate Gulzar's works? Why him in particular?
I have grown up with his works and I like it. The first song written by him -- Mora Gora Ang Lai Le in Bandini (1963) -- was picturised in my hometown Sahibganj in Jharkhand. This was before I was born. My first memory of any song is Dakia Daak laya in Palkon Ki Chhaon Mein (1977). Gulzar's songs have been a part of my emotional journey; I relate his songs to my childhood, adolescence, growing up years. Gulzarsaab is my guru. He has not trained me but his works have inspired me.
How did 100 Lyrics come about?
In 1995, there was a television series called Mirza Galib, written and directed by Gulzar. I loved that series, so I translated it in English and gifted it to Gulzarsaab (it got published 10 years later). Gulzarsaab loved it, so a few years later, he asked me to get his songs translated.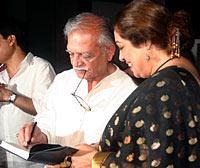 How difficult was it to track his songs, and narrow it down to the final 100?
His songs are available; it was not difficult searching for them. But it was difficult choosing the final 100. Everyone who knew me gave me their list of songs that they wanted in the book. Finally, I had about 500 songs. Removing any song from the list was like upsetting someone. So I asked Gulzarsaab to choose 100 from this list.
When I got Penguin Books India to publish the book, they chose 40 songs of their own. We finalised on 130 songs and I started translating them. 
Later, we came down to 116 and we titled the book, 116 Chand Ki Raat. But later, Udayan Mitra (the executive editor of Penguin Books India), Gulzarsaab and I discussed for a week and decided on the final 100.
Did you show your translations to Gulzar?
Every song took about three days. I would translate each song and fax it to Udayan Mitra and Gulzarsaab. They would go through it and get back to me. Sometimes I would get carried away and Gulzarsaab would have to explain what he meant in that song. In some songs, I would explain too much and he would tell me not to explain the whole thing.
Some of his songs cannot be translated at all -- like Dakia Daak Laya and Beedi Jalaye Le from Omkara.
Do you think Gulzar is past his prime?
He's always at his best. At the age of 29, he wrote a mature song like Mora Gora Ang Lai Le. And at the age of 75, he wrote Kajra Re (Bunty Aur Babli) and the songs of Kaminey. That shows how young at heart he is. He has adapted to modern times -- even college kids love his songs. Slumdog Millionaire's Jai Ho is a rage all over the world.
His songs have the flavours of Amir Kushru and Mirza Galib.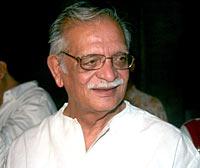 How does Gulzar compare to the great Hindi lyricists like Shakeel Badayuni, Kaifi Azmi, Jan Nisar Akhtar and Anand Bakshi?
There is no comparison at all. They were all good in their own right. But I am Gulzarsaab's fan.
Is it true that Gulzar reserved his best work for R B Burman?
I don't think so. I believe Gulzaarsaab had a different tuning with R D Burman. They have collaborated on some of the best songs. R D Burman ridiculed what Gulzar wrote but then, he composed the best for him.
Which were the best songs he wrote for RD? And his best songs for others?
I like Dhanno Ki Aankhon Mein Raat Ka Surma from Kitaab, Choti Si Kahani Se and Katra Katra Milti Hai from Ijaazat.
I like all of Vishal compositions and the Dil Se songs.
Did Gulzar share how he wrote raunchy songs like Kajra Re and Beedi Jalay Le?
They are not raunchy songs. It's because of the picturisation that you feel that way. The song Yeh Raat from Aks is the best description of night by any poet. The song Phooke De from No Smoking -- picturised on Jesse Randhawa -- is so meaningful. Beedi Jalay Le is such an earthy song -- people in the villages will understand it better. When your chula (stove) dies down, you have to go to your neighbour's house to get fire.
Do you know where Gulzar's inspirations come from?
His inspiration is from life around him. Though I haven't asked him this question, he once said that the line Abhi Na Utha Mere Dost Ka Zanaja, was written after his friend's death. I'm sure he wrote some songs from personal experiences.
Do you know how fast Gulzar writes his songs?
In one of our conversations he told me he keeps a diary handy all the time and keeps writing things as and when they come to his mind.