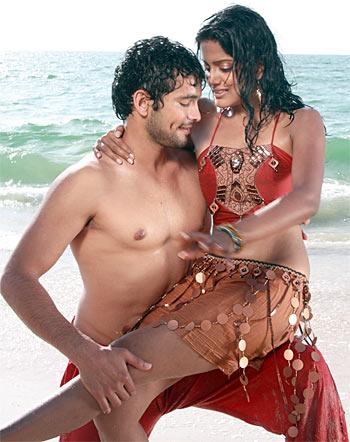 Ajay Devgn and All The Best director Rohit Shetty may have a winner on their hands but the film has Kannada director Hemanth Hegde fuming. Hegde claims that All The Best is a plagiarised version of his film House Full, and is contemplating legal action.
House Full stars Diganth, Vishaka Singh and Gauri Oak, along with Hedge himself, and was released three months ago.
"When I first scripted House Full, I had thought of the title Coming Soon. I had narrated the script to some Bollywood producers and wanted to direct a Hindi film," Hegde says. "I had even registered the script with the Hindi film writers' guild. But I don't know how it leaked out."
The fact that critics said House Full was inspired by Tamil film Kadala Kadala (starring Kamal Haasan, the late Soundarya, Rambha and Prabhu Deva) has not deterred Hegde from making this serious charge against Devgn and Shetty. Of course, he does not agree that his film has been inspired.
 
When asked why he is making the plagiarism charge when critics have pointed out that All The Best has been inspired by the French play Right Bed, Wrong Husband, Hegde says that he had not read the play and was unaware of its content.
There are a lot of similarities in the two stories, Hegde says. "The only change is that the grandfather's character in House Full has been changed to the elder brother's role in All The Best, which was played by Sanjay Dutt. I agree that two people may think alike in the film industry where a number of stories are being discussed. But there are a lot of similarities in the film, which will create doubts. A lot of sequences and characters are similar. Even in my film, the underworld don is comical. Most of the sequences in both films happen in Goa," Hegde says.
Hegde claims that he has reported the matter to House Full producers Maverick Productions, a Mumbai based corporate house. "The ball is now in the court of Anuj Saxena (CEO, Maverick Productions). I am also discussing with some lawyers whether I can file a case because the screenplay was registered with the writers' guild," Hegde says.
Meanwhile, Hegde is working on another Kannada film to be produced by Maverick Productions.