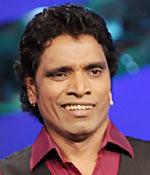 We have loved Johny Lever's comedy through the years, and even miss his long absences from showbiz these days.
Now, it's time for his younger brother Jimmy Moses to show us how hilarious he can be. Jimmy is one of the celebrity contestants of the third instalment of the television reality show Comedy Circus called Teen Ka Tadka, starting October 24.
Not many may know that the 39-year-old is a reputed stand-up comedian and mimicry artist. He is popularly known as Junior Johny Lever. Jimmy has been doing comedy for two decades now, and has done about 4,000 shows in more than 30 countries.
"I am 14 years younger than Johny," Jimmy says. "He has been my idol and inspiration. I used to mimic at school, in front of friends and teachers. Comedy runs in my genes, so I knew that I would become a comedian when I grew up. My mother used to mimic and make everyone laugh and my brother started doing comedy at a very young age."
Jimmy failed in Grade 10 in school, and started managing his brother Johny's work since then. "I would manage his dates. One day, he asked me what I wanted to do in life and I said I wanted to be a comedian. He told me to read a lot of humour artists' books to learn the nuances of comedy. I started by doing mimicry in my locality during festivals and slowly moved on to shows. After a few years, I bagged films (Joru Ka Ghulam, Ghaat, Aap Mujhe Acha Lagne Lage, Teera Jadoo Chal Gaya, Krazzy 4) and television shows (Tu Tu Mai Mai, Phir Bhi Dil Hain Hindustani, Laughter Challenge). After that, there was no looking back," Jimmy says.
Jimmy went on to do bigger stage shows with stars like Shah Rukh Khan, Aamir Khan, Salman Khan and Aishwarya Rai.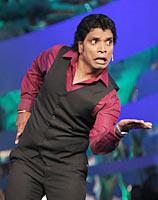 But Jimmy is still in touch with his roots -- and his friends at Dharavi (Asia's biggest slum dwelling) and Antop Hill, in surbuban Mumbai -- where he spent his early years.
"We meet up during festivals. But our lifestyle has changed over the years. Since we are in this profession, we have made friends from the film industry. But old is gold, you know," Jimmy says with a smile.
Comparisons with his older brother are inevitable, and Jimmy agrees. "Yes, people do compare me with my brother. Initially, people were sceptical but they slowly started accepting me. We know our talent, so it doesn't matter as long as we entertain people," he says.
Has Johny given any him tips? "Yes, and his tips were really helpful," he answers. "He told me not to be over-confident and loud, and to go with the flow."
As if to prove that comedy runs in the family, Jimmy's five-year-old son has already started doing mimicry in his locality, and gained appreciation. "He does not talk much but one night before a show, he told me that he wanted to do mimicry. I helped him and he got a lot of appreciation from the people," he says.
Comedy Circus 3 will see him attempting comedy with two other partners. Will that be tough? "It's easy to do solo stand-up comedy. But to do it with partners needs a lot of rehearsals to get the co-ordination right," explains Jimmy.
But he's willing to try his luck because 'TV shows pay well.'
Watch Comedy Circus 3 on Saturdays at 9 pm on Sony Entertainment Television.