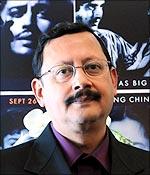 Arun Dutt has a measured, polite and apologetic tone when he speaks -- as though he was to blame for your ignorance -- and a way of quietly stressing some words.
Dutt, who was in New York for a series on Guru Dutt's films at the New York Film Festival, looks remarkably like his legendry father, a fact accentuated when he stood against a poster of Guru Dutt's films.
Dutt discussed growing up in the shadow of Guru Dutt, hearing about his father from his old film crew, and how that affected him as a son.
 How did you get involved in this event?
The rights for all films, except Baazi, are with me. [Dev Anand's] Navketan has that. The director of programming for the New York Film Festival, Richard Pena, had come to Pune sometime last year and we started talking. We've had a few screenings in the US -- either Kaagaz Ke Phool was shown, or Pyaasa. But we never had a festival of this sort.
How has the fan following for your father changed over the years?
It has changed a lot. In fact, during his own time, he was not appreciated at all by the press. Yes, the audience loved him -- all of his films were more or less successful but the press practically ignored him.
It was in the 1980s, when the films went to France and became very popular there, and in Europe. That was when the Indian press sort of woke up to him and, you know, seeing his films once again, started appreciating [them]. Today, he's considered a legend.
Which is your favorite movie made by your father.
Pyaasa.
Isn't Pyaasa about innocence betrayed and Kagaz ke Phool more a song of experience?
Yes, but the difference is just two years between the two. 
But the story of Pyaasa is older, right? 
Pyaasa was written in 1947 [it was released in 1957]. I've got his original handwritten version of Pyaasa (smiling with some pleasure). Page one is missing but you can really know what follows because the beginning of the film is exactly like the script. In the later stages, he made changes.  
What language did he write in?
 English. He thought in English also.
 Did you visit him on the sets?
No, I was too young. I was just eight years old when he expired. He didn't encourage us to come. If he was alive, he would not have allowed us to come close to cinema. He knew it was a very insecure business.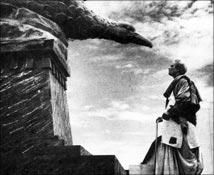 Was he disillusioned by it? 
He was, he was. In fact, he was a very pessimistic person.
Could you tell us more about him?
I have his letters. My mother had preserved his letters from 1951 to 1962 [when Guru Dutt died]. All those letters have been compiled into a book called Yours, Guru Dutt. In fact, the first letter he wrote to my mother was in Hindi (laughs). 
He was not comfortable in it… 
He was not comfortable in it though he could write Bengali also.
Could you describe growing up under the shadow of this legend.
See, at that time people were not as star crazy as the people are today. When we were growing up, we did not really know that he was such a great filmmaker. Even at school [St Mary's, Mazagaon] people never used to talk about it.  
We weren't in awe of him. That was much later. In fact, the first film I have seen of his in my life is Pyaasa. And that even I got a matinee show at Swastik cinema [in south Mumbai]. I cycled all the way from Santa Cruz [in north Mumbai] to Swastik cinema.
How old were you then?
I was 14. (Reflects) Less in fact: I was 13. 
Why did you decide to see this movie at all? 
To know more about my father. By then I had become a film buff. In my craze to see all the films, first day first show (laughs), I caught a lot of his films, Bimalda's [Bimal Roy's] films, and Raj Kapoor films in the matinee shows.
When you saw Pyaasa first, what did you think?
I was awestruck.
A 13-year-old could appreciate it?
Yes, I did (earnestly). We were always part of cinema and we were always discussing films.
So what did you think of it?
At that time, we still had an audience for black and white films. We're talking of late 1969-70. So you could get a reaction from the audience. I had to see it two or three times before I caught the entire thing because the poetry was a little too heavy for me at that stage (laughs). 
A lot of Urdu there?
A lot of Farsi, in fact, more than Urdu. Because Sahirsaab [lyricist Sahir Ludhianvi] was a good Farsi writer. In fact, my father had to ask him to simplify the lyrics quite a bit through the film.
Could you tell me more about [cinematographer] V K Murthy, who you have worked with. 
Murthy uncle (with some animation)! The more I talk about him, the less it is. He's a gem of a human being. Totally non-controversial. He will not talk at all about the personal life of my father. He was totally non-political.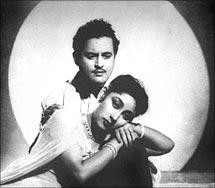 I've heard your father picked him after seeing him do things others could not. 
Yeah. Actually, when he [Guru Dutt] was working in Baazi, the cameraman was Falisaab -- Fali Mistry. Murthy uncle was Fali Mistry's assistant. There was a certain requirement by my father in the film that required a lot of movement of the camera.
In those days, we used to have the Mitchell -- a heavy American camera. Falisaab was very fat. Those sort of movements -- it was not possible for him. So Murthy uncle did that entire shot. He's very skinny and, you know, short. Still -- handling a Mitchell -- he handled it beautifully. When my father saw the rushes, he was very impressed. He then told Murthy uncle that from my next film onward you will be my cinematographer. 
Kagaz ke Phool was perhaps his peak. What happened thereafter?
Even Sahib Biwi Aur Ghulam had very good photography. Basically, he was so good with black and white images that when [films] became colour, he couldn't really match. After my father, none of the other directors could really tell him exactly what [they] wanted.
Was it only Raj Kapoor who was very particular...? 
Nahi. Bimalda was there. But they all had their own cameramen. Like, in this documentary [Nasreen Munni Kabir's Guru Dutt: A Life in Cinema], he [Murthy] had said that once he thought he'd lost his art. Which is true for him. He never caught another director who could get that kind of work out of him. 
He was also a personal friend, but perhaps not like Sahir was...
Sahirsaab was not really a friend. Abrarsaab [writer, director and actor Abrar Alvi] was a very close friend.
Oh yes. There was a small fight, also...
Yes. Sahirsaab, after Pyaasa, said that if it was not for his lyrics the film wouldn't have worked.
But it's partly true, right? It was a team effort.
It is true but you don't go around saying that. Just lyrics couldn't make a film. It had to be picturised also. Sahir has written lyrics of so many films but none of them were Pyaasa.
Most of the strong songs he wrote were about himself. Even Jinhe naaz hai Hind pe kahan hai is based on his own original [Chakley]. 
Actually, Jinhe naaz hai Hind pe.... These words are in Farsi. It was actually printed in his book. From that book my father had taken out this song. And he said, just simplify this line [originally, Sanaa-Khwan-e-taqdees-e-mashriq kaha hai?].