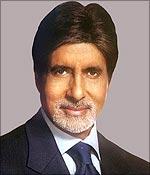 Even as a new film threatens to rake up dirt about the alleged Parveen Babi-Amitabh Bachchan relationship, the superstar comes clear of the old accusations saying that such controversies have stopped affecting him.
The film Three Kings by Hollywood director Reynold Baines reportedly revolves around the controversial actress and the three men in her life, director Mahesh Bhatt, actor Kabir Bedi and Bachchan, but the 'Shehenshah' of Bollywood is far from perturbed.
"I don't know where they are getting all this rubbish from because it's all untrue. But what can you do, it is another artiste's perception of who I am," Bachchan told PTI in an exclusive interview.
Apart from wife Jaya, Bachchan made the maximum films with Babi, including the cult classic Amar Akbar Anthony. So when Babi who was reportedly suffering from schizophrenia, accused Bachchan of conspiring to kill her in a court petition filed in 1992, it grabbed headlines. Though the court dismissed the case for lack of evidence, the incident caused plenty of negative press for Bachchan.
"When you have got accused of all kinds of things from national scandals to this, you just learn to take it. How is this any less than Bofors or Barabanki, or the recent fraud which I have been accused of?
"All these things are part and parcel of my life now, so I just lie back and enjoy," said Bachchan adding that he plans to clear his record through his favourite medium, blogging.
"Time is running out and I have to clear the record about plenty of things. That is why I have started talking. I had decided earlier that I would keep quite and not say anything as I did not know the machinations that work behind the events just to taint you. But in today's world it does not pay to be a silent observer," said Bachchan.
The thespian who considers blogging his passion, said that he makes it a point to take time out of his schedule to write because he has formed an emotional connect with his readers.
"I feel very responsible by the end of the day, because now I have a huge family, which waits in anticipation for what am I going to say. It's almost like me sitting and talking. So if I suddenly stop blogging, it will be like me suddenly getting up and leaving, which is unfair to my audience," said the actor who was chosen as the 'Star of the Millennium' by BBC in 2000.
Bachchan, who recently turned 67 amid much celebration and national fanfare, will next be seen playing a genie in the fantasy flick Aladin. "My genie is actually inspired by Sujoy Ghosh, the director. The genie in the film is not a huge apparition wearing harem pants and a felt cap. He is naughty and always has a smile. He actually wants to grant Aladin the three wishes quickly so that he can then retire," said Bachchan.
While the genie might be keen to hang up his boots, retirement is far from Bachchan's mind, who is enjoying a peak in his career.