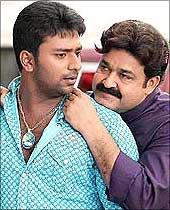 These days it is not uncommon that the only emotion you are left with while watching a movie is despair. And judging from the just released Angel John, the feeling continues.
S L Puram Jayasurya's second directorial Malayalam venture stars Mohanlal (in an extended cameo) and Santhanu (son of Tamil actor Bhagyaraj and Poornima), who is making his entry into Malayalam cinema.
First things first, Mohanlal does make an effort to pump life into this turgid affair, which is inspired by the Hollywood film Bruce Almighty. He plays the title role complete with flashy costumes and shiny hairdo.
Maradona (Santhanu), a youth with a wayward lifestyle (this includes lack of personal hygiene, watching porn on his computer and womanising) is a constant source of heartache for his parents.
When things supposedly go overboard, he tries to commit suicide by jumping from a lighthouse in a drunken state. He is saved by a strong hand that marks the entry of Angel John. Maradona is given an option; either to live his destined lifetime as God has willed with problems, or live one third of it with his every wish fulfilled at the rate of a wish per day. No surprise here when he chooses the second option.
The plot has some interesting bits though they are few and far in between. There are also subplots in the form of a nuclear family consisting of a girl child Sophie (Nithiya) who limps -- she also has a soft corner for Maradona--, her father James Kuruvilla (Vijayaraghavan), an unsuccessful director and a house-bound husband, who is always ridiculed by his working wife played by Sona Nair.
Then we have Khader Moosa (Jagathy Sreekumar), who does weird things to get his name entered in the Limka (sic) Book of World Records, so that his estranged wife would return to him.
As for the histrionics, Santhanu does give a few chuckle-worthy moments in an otherwise confused performance. Nithiya does get our attention as a subdued lover praying for her father's success and lover's betterment.
Jagathy Sreekumar and Bijukuttan are no match for the duo of Mohanlal and Santhanu in the humour department, though there's no need for Mohanlal's dialogues where he takes pot-shots at his competitors.
As for the impact of Angel John on the audience is concerned, we might as well say a little prayer.
Rediff Rating: