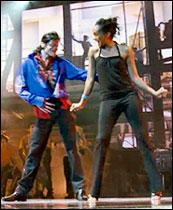 Michael Jackson was always so much larger than life.
His music was at the heart of it all but the videos, the costumes, the live shows, the legends about his sprawling home and immeasurable wealth -- all of it fuelled the public's interest in him and his fans' devotion to him.
Sure the darker allegations, coupled with bizarre public appearances and questionable personal life choices had helped his slide into relative obscurity, but it was never likely that Michael Jackson would be totally forgotten.
There is no curiosity quite like morbid curiosity so it is inevitable that the death of a famous entertainer would spur renewed interest in his or her back catalogue. What sits a little less easy with me, in this case, is how quickly this material has been repurposed as a treat for MJ fans and connoisseurs. The man hasn't been dead that long.
One could easily envision the huge public outcry if someone had released a film about the September 11 New York World Trade Centre attacks, or material from the day John F Kennedy was assassinated, or any other tragedy involving public figures or global events, so soon after the actual event itself.
Yet here it is, possibly the largest worldwide release, about the months of preparation a global icon undertook for his first appearances in front of a paying public in over a decade. In less than six months after his death.
The film begins with statements from young people hoping to appear on-stage as the legend's back-up dancers. One Australian has a particularly hard time keeping his emotions in check and it is quite clear that for a lot of these young men and women it is a real honour to even entertain the notion of working with Michael Jackson.
And then, with a brief introduction to the way the actual show would have begun, we get to see the man himself.
There he is, front and centre, singing those lyrics so many of us know so well, essaying the dance moves countless kids have imitated (or tried to imitate) and still managing to have feedback, advice and even rebukes for various members of his very large ensemble, about different parts of the show.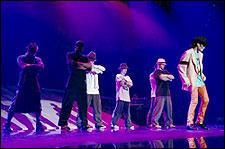 Make no mistake, this is behind-the-scenes footage. It would have been nothing more than the bonus material served on the inevitable concert DVD released after the live performance commitments had been honoured. And as such, the contents of this movie would probably have been ignored by anybody other than the man's most devout fans. So to see this material like this, on the big screen, is almost like being let in on an important secret.
A substantial portion of the film consists of Mr Jackson going through the paces onstage. There are interview snippets cut in with various crew members but all of it is about the preparation for the live shows. No reference is ever made to his death other than the retroactively chilling inclusion of his statement from the press conference where he announced the This Is It live shows and said words to the effect of this being his 'final curtain call'.
Along the way we learn the difference between toasters and elevators (toasters are the platforms that shoot dancers up onto the stage through the floor so that they pop up dramatically), watch some incredibly well-built people dancing around; see attractive women draping themselves around metal shapes in a manner that calls to mind our very own malakhamb; and get to hear several of the man's biggest hits as he runs through them with the show's director Kenny Ortega, backup singers, musicians, audio technicians and anybody else who forms a part of this intimidatingly large enterprise.
Even the uninitiated outsider would realise that a lot of hard work went into the design of a concert performance as elaborate as the one being orchestrated for Michael Jackson. Lighting rigs had to be deployed, fire and fireworks displays had to be choreographed, dancers had to be put through rigorous training routines, costumes had to be designed, special video footage had to be conceptualised, directed, shot and post-produced and the songs themselves had to be rearranged and updated to take several factors into account -- most importantly the fact that Mr Jackson was ten years older.
Yet to watch the man in action was to get the distinct impression that the clock ticked slower for him than for most other humans. Sure he was a little tentative, but the moves he was essaying were pretty impressive for a fifty-year-old. Though, in his own words, he was trying to 'save his voice,' he wasn't above letting it soar when the moment overcame him.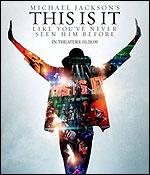 The content in This Is it was apparently culled from over one hundred hours of footage shot at these rehearsals. From where I was sitting he didn't look like a man who would be dead in a few weeks. He was very quick to pick up on minor changes in pitch and rhythm on the songs. He was able to organise the information inside his head efficiently enough to be able to 'know' when a video (behind his back) had stopped playing and it was time for him to kick in with the live portion of his performance.
What also came across was that Michael Jackson appeared most satisfied with playing a character. In the portions where he plays the noir cinema-style gangster, he really gets into the playacting of it all. He clearly seemed to love the make-up and the costumes and the playing-dress-up part of his job. He seemed ill at ease with being a normal person, if such an idea could even exist within the world of a person who spent so much time growing up in the public eye.
This Is It is a unique experience, especially for those who never got to watch the man in concert. I was fortunate to have witnessed the Michael Jackson extravaganza when he played in Mumbai and I can say without reservation that he put on a spectacular show.
To be able to see (and perhaps gain minor understanding of) how committed he was to entertaining us, is probably the best way to honour his memory. For that reason alone I recommend This Is It.
Rediff Rating: